Protest – Support Staff in Childminding Ireland
Call for support – IMPACT members in the Dublin area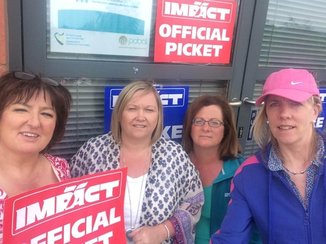 Four IMPACT members in Childminding Ireland have been on strike since Tuesday, 7th June 2016 in a dispute over compulsory redundancies.


They are seeking your support for a protest being organised outside the Department of Children and Youth Affairs, Mespil Road, Dublin 4, on Tuesday 21st June, 2016 at 1pm.


Please join us and lend your voice to support these fellow IMPACT members


Childminding Ireland receives substantial state funding and is not in financial difficulty. Yet its workers were issued with redundancy notices and told they'd be able to re-apply for their jobs sometime in the future.


Last month, management refused to engage with the union, in the Workplace Relations Commission, about the redundancies and proposed restructuring, leaving staff with no option but to take industrial action.


IMPACT asked the Department of Children and Youth Affairs to use its influence with management at the agency and urge them to engage in normal negotiations. It has refused to do this.


Childminding Ireland is located in an isolated business park in Kilcoole, Co. Wicklow. As a result, the striking staff have received little attention, despite being on an indefinite strike. We are seeking to put pressure on the Government to use its role as funder to ensure that management engages with IMPACT in the normal way – and find a satisfactory response to this dispute.


A strong turnout by IMPACT members next Tuesday lunchtime will demonstrate that there is strong support behind the efforts of the workers involved.


As a small newly-established IMPACT branch, the Education No.1 Branch members would very much appreciate your support for a short time on 21st June.


Your voice will make a difference