IMPACT Biennial Conference 2016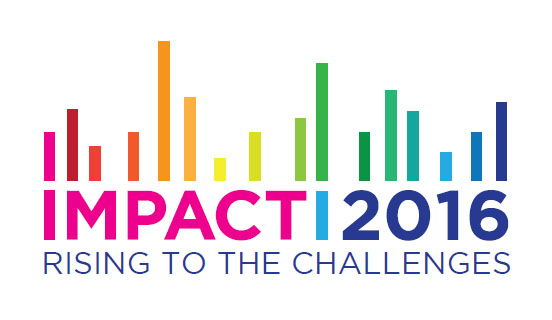 Issued to: Branch secretaries, CEC, SOC, all staff, seconded officers,


Dear Colleague


Biennial delegate Conference


I will be despatching hard copies of conference documentation to branch secretaries and members of the CEC next week. In the meantime, some of the key conference documents can be now downloaded from the conference pages of the IMPACT website HERE. Additional conference documentation will be added as it becomes available.


The conference documentation currently available on the website includes:
The 2016 biennial conference agenda.

Minutes of the 2014 conference.

Report on action on motions adopted as resolutions at the 2014 conference.

The audited IMPACT accounts for the years ended 2014 and 2015.
The following documents will be added over the coming days:
The 2014-2016 IMPACT biennial report

An update on the union's organising activities

A short update on the New Union Project

IMPACT 25 - a celebration of the union's 25th anniversary.
Documents will be available to delegates on a computer memory stick, which will also include the IMPACT rule book.


Registration and ballot papers


Conference registration will open at 4.00pm on Wednesday 18th May at the conference centre of the Gleneagle hotel, Killarney, County Kerry. Ballot papers will be available to principal delegates at registration. Principal delegates should register in plenty of time to ensure that delegates do not miss the beginning of conference, which commences at 7.00pm sharp on Wednesday 18th May.


Ballot papers will be distributed to principal delegates when they register. You should take great care of your ballot papers as no replacements will be issued under any circumstances. You should note that the ballot boxes for the first election will close at 10.15am on Thursday 19th May. The Standing Orders Committee will keep conference informed of the timetable for the other ballots.


Delegations


Branches who have not already forwarded details of their delegation to IMPACT head office should do so immediately and any changes to your delegation should also be notified to Valerie West on 01-817-1527 or vwest@impact.ie or Teresa Griffin on 01-817-1529 or tgriffin@impact.ie.


Standing orders


Branches who want to raise any issue with the Standing Orders Committee should send details via Matt Staunton (mstaunton@impact.ie) as soon as possible and, in any event, no later than one week before conference. The Standing Orders Committee will be available to deal with last minute issues in the conference venue between 3:30pm and 4.30pm on Wednesday 18th May.


Fringe events


Two fringe events will be held at lunchtime on Thursday 19th May. One focusses on establishing a youth network across IMPACT branches. The second will address a range of international topics. Where practical, branches should arrange for at least one delegate to attend each event. A third fringe event will discuss developing our retired members group at lunchtime on Friday 20th May. Again, branches are requested to arrange for at least one delegate to attend.


Conference dinner and social events


The conference dinner will be held at 8.00pm sharp on Friday 20th May in the same room as the conference is being held. Places are limited and tickets are now on sale on a first-come first-served basis. Tickets cost €60 if you pay in full by Monday 9th May, and €65 after that. You should contact Valerie West (vwest@impact.ie) on 01-817-1527 to book tickets. Please make your cheque payable to IMPACT. Please note that sales of tickets will close at 5.00pm on Friday 12th May. It is possible for branches to pay for pre-reserved tickets at conference.


Social events have also been arranged in the Gleneagle Hotel on the evenings of Wednesday 18th May and Thursday 19th May.


Childcare facilities


Delegates who require childcare facilities should immediately contact the Gleneagle hotel or the hotel they are staying in.


Members with disabilities


If any member of your delegation requires specific arrangements because of a disability you should contact Margaret Gorman (01-817-1568 or mgorman@impact.ie) in the union's Dublin office immediately.


Guests and observers


All requests for observer cards must be submitted in writing to the general secretary's office PRIOR to the conference. Because space is extremely limited in the conference hall, and because of the need to ensure that only delegates vote at conference, seats for guests and observers will be allocated at the back of the conference hall. I should be grateful if you would ensure that seats allocated to your delegation in the main hall are occupied by delegates only.


Transport and parking in Killarney


The Gleneagle hotel is located a short distance outside the centre of Killarney, and is well signposted from the town. There is ample free parking at the conference centre.


Shuttle buses from the train station and airport will be available on Wednesday 18th May. However, it would be helpful if you could indicate how many of your delegates are planning to arrive on particular trains or flights (please contact komalley@impactir.ie). Further details of local transport arrangements are available on the conference section of the IMPACT website.


Restaurants and other local information


A list of local restaurants in Killarney is available on the conference section of the IMPACT website. You can access information about local tourist attractions HERE.


Accommodation


If you have booked hotel accommodation that you do not now intend to use, you should inform your hotel as soon as possible. Otherwise you are likely to be charged for the accommodation.


If you have any queries regarding conference please contact Teresa Griffin on 01-817-1529 or tgriffin@impact.ie.


I look forward to seeing you at conference.


Yours sincerely,

Seamus Cody
General Secretary