Fórsa members' news bulletin: Health & Welfare
Wednesday 11th March 2020
Health unions praised for Covid-19 response

Health minister Simon Harris has described the Covid-19 response of health service unions as "amazing." He said criticisms of Fórsa and other unions for rejecting unilateral outsourcing and a ban on industrial action in response to the virus were unfair.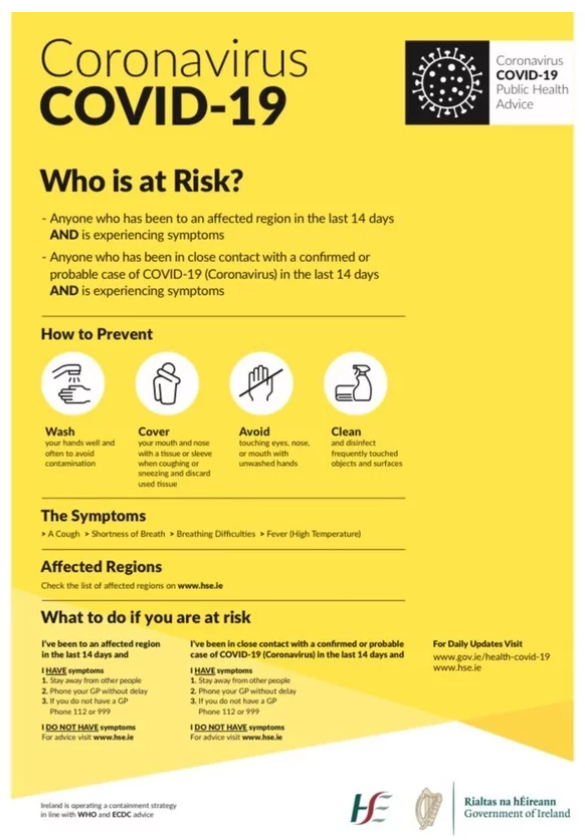 Meanwhile, Fórsa has sought clarity on precisely what could trigger staff redeployment after the HSE issued a document – without union agreement – outlining its stance on staff matters related to the Coronavirus.
Separately the Department of Public Expenditure and Reform (DPER) issued guidelines late last week, which will ensure that health workers receive basic pay, including fixed allowances, if they are required to self-isolate. This will start from day one, and will not be counted as part of the employees' sick leave record. But it will require medical or HSE confirmation of the need to self-isolate.
All unions in the health sector have said they are opposed to its clauses on outsourcing and the suspension of all industrial action. Fórsa's head of health Éamonn Donnelly said the industrial action ban was unnecessary.
"Health staff and their unions are cooperating fully with the Covid-19 effort and a blanket ban on industrial action is totally unnecessary. There is no question of any industrial action impeding our ability to deal with the emergency," he said.
He added that any outsourcing proposals should be handled on the basis of protections set out in the Public Service Stability Agreement (PSSA).
Fórsa has also demanded that the HSE immediately lift barriers to the recruitment of health and social care professionals (HSCPs) to ensure the public health system is fully prepared for rapid progress of the virus. Éamonn said there were shortages of HSCPs in hospital and community settings.
"We've been working closely with the HSE to respond to the growing challenge posed by Covid-19. We've told them this must include the lifting of recruitment barriers to HSCP staff, whose professional skills will be closely involved in Covid-19 diagnosis and treatment," he said.
HSCPs include pharmacy staff, dietitians, physiotherapists, occupational therapists, cardiology and respiratory specialists.
Meanwhile, the Government has agreed to improved basic sick pay provisions for workers who are affected by the coronavirus, but who don't have the protection of a union-negotiated agreement. They will receive higher levels of sick pay from their first day of illness.
This came after the Irish Congress of Trade Unions (ICTU) intervened, saying that limited sick pay provision was unfair to workers who lacked the protection of a union, and also increased health risk by acting as a disincentive to self-isolation.
In response, the Government agreed to increase basic sick pay provisions and waive conditions like the requirement to have a specific number of PRSI contributions. Payments will also be available to the self-employed.
Earlier, Minister Harris said health unions were right to ask questions about the HSE's plans as they impacted on staff. "The unions have been amazing. I've never seen such solidarity, all stepping up to the plate," he said.
Éamonn added: "The minister said there isn't a health service in the world that wouldn't suffer capacity issues from the impact of the virus, and that efforts are being made here to increase capacity. If the HSE can lift all barriers on the recruitment of nurses in response to this developing public health crisis, then it must act to lift restrictions on other essential staff."
Read the DPER guidelines HERE.
Read the HSE document HERE.