Fórsa news digest
Monday 22nd November 2021
Made of Stone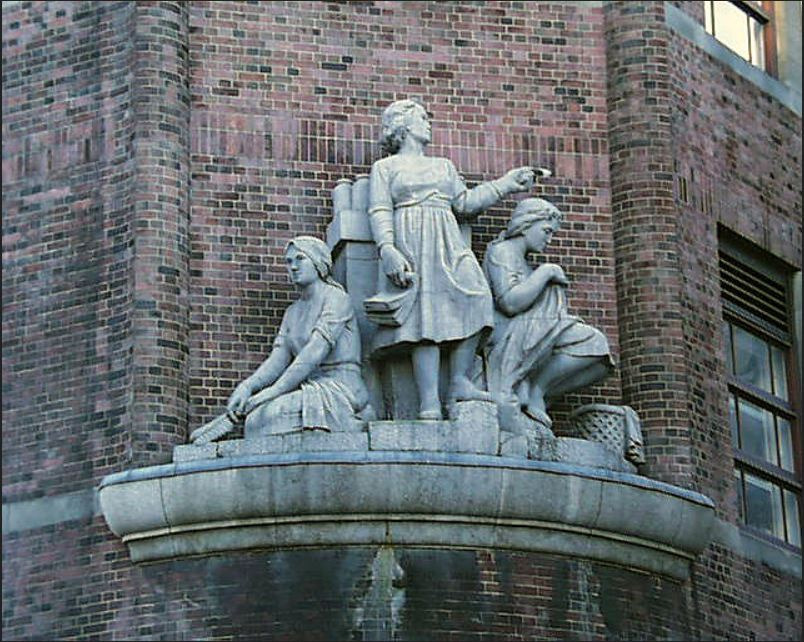 'Three Graces' by Gabriel Hayes at Cathal Brugha Street
The INTO has said that schools have been abandoned by the Department of Health, while doctors at the Mater Hospital believe another lockdown before Christmas is "almost inevitable."
The Irish Times reports that the group representing commissioned officers in the Defence Forces is to consider whether it should affiliate itself with ICTU, while six workers at three of Stryker's sites in East Cork reported a number of incidents to the Health and Safety Authority through a protected disclosure.
The Irish Times industrial correspondent Martin Wall started his new job last week as the paper's bureau chief in Washington. Martin has been on the IR beat for many years, and will be missed around these parts. His first column from DC paints a vivid picture of the political environment into which he is now immersed.
The Weekend
I missed it for Friday's digest but was intrigued by Irish Times columnist Stephen Collins' proposal that social partnership "may be the key to creating climate consensus."
Elsewhere, Government officials have forecast in a spending review that Ireland's aviation sector may require more State pandemic supports next year, as traffic levels are unlikely to recover until 2025.
Sticking with aviation, the Sunday Independent has a detailed report about IALPA's recent letter to Aer Lingus management, which raises concerns about training, scheduling and Christmas crewing arrangements on transatlantic flights. Ryanair, meanwhile, has moved to delist the company from the London Stock Exchange.
And in the Business Post, it's reported that Paschal Donohoe told Paolo Gentiloni, the European Union's Economy Commissioner, that rising house prices were one of three major threats to the Irish economy.
Zen

Your Zen this morning celebrates the work of artist Gabriel Hayes (pictured above), whose bas relief panels adorn the Department of Enterprise in Kildare Street, one of the finest examples of Art Deco architecture in the city. Check out Discover Dublin's short but informative thread devoted to to the building and to Hayes' work. Next time you find yourself in Kildare Street do check out the building itself, it's well worth a look. Other great public pieces by Hayes include her Three Graces, who preside over the entrance of TU Dublin in Cathal Brugha Street.
Have a great week.
Niall