Fórsa members' news bulletin: Services & Enterprises
Wednesday 11th March 2020
Unions respond to Covid-19 threat

Concerns hit aviation hardest
by Niall Shanahan and Bernard Harbor
Fórsa has been in daily contact with airlines and agencies in the aviation industry, whose workers have been among the first to feel the effects of the Covid-19 virus.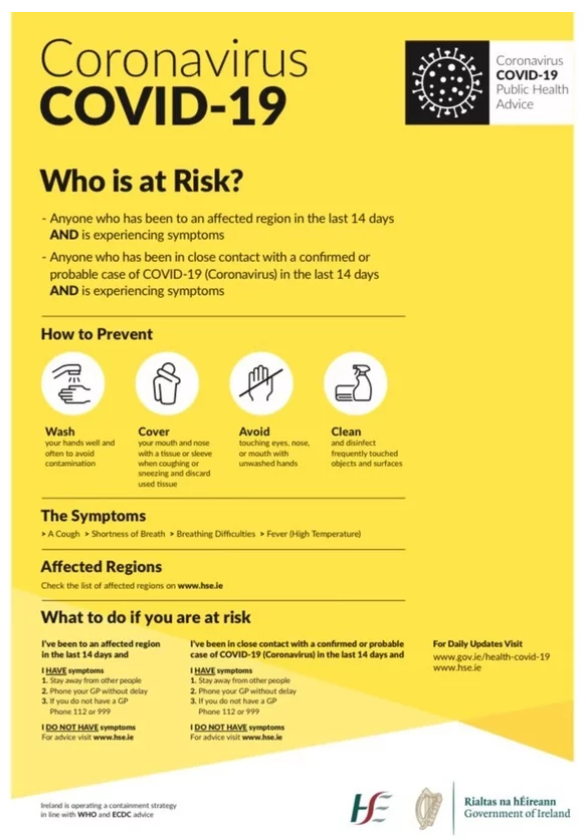 A number of airlines are now looking at cost-saving measures following a collapse in demand for flights as the virus spreads. Most have suspended or reduced flights to regular destinations, most notably Italy.
Last week's collapse of the UK airline Flybe prompted Stobart Air, which provides the regional flight service to Aer Lingus, to seek cost saving measures. And Aer Lingus itself has sought volunteers for periods of unpaid leave and part-time working options.
In a memo to staff, Stobart said the virus had had "a direct and damaging impact on our business" as businesses and individuals scaled down their travel plans.
Fórsa official Ashley Connolly said there was widespread concern throughout the industry. "The Covid-19 situation continues to evolve very quickly, and our members in aviation have felt the impact of its effect on the movement of people. We are maintaining daily contact with employers and our members in the industry.
"The scale of the impact is still uncertain, and a lot depends on how long the current uncertainties and restrictions on movement apply. We are determined to provide optimum protection for our members at this very challenging time," she said.
Meanwhile, workers in the non-commercial semi-state sector are covered by guidelines issued late last week by the Department of Public Expenditure and Reform (DPER).
These will ensure that staff receive basic pay, including fixed allowances, if they are required to self-isolate. This will start from day one, but it will require medical or HSE confirmation of the need to self-isolate.
The head of Fórsa's Services and Enterprises Division, Angela Kirk, said the union was acutely aware of the rapidly evolving public health threat that Covid-19 poses. She said aviation had been hit first, but staff in the community sector, and working in cultural institutions like museums and galleries also had health concerns.
"Workers in the division face a stressful and very worrying time, and Fórsa officials are in regular contact with all employers to ensure that all appropriate measures are been taken to protect the safety, health and welfare of staff," she said. Angela encouraged all branches to follow HSE advice relating to personal protection from the virus.
Meanwhile, the Government has agreed to improved basic sick pay provisions for workers who are affected by the coronavirus. They will receive higher levels of sick pay from their first day of illness.
This came after the Irish Congress of Trade Unions (ICTU) intervened, saying that limited sick pay provision was unfair to workers who lacked the protection of a union, and also increased health risk by acting as a disincentive to self-isolation.
In response, the Government agreed to increase basic sick pay provisions and waive conditions like the requirement to have a specific number of PRSI contributions. Payments will also be available to the self-employed.
Read the DPER circular HERE.