Fórsa news digest
Monday 15th November 2021
Radio Free Europe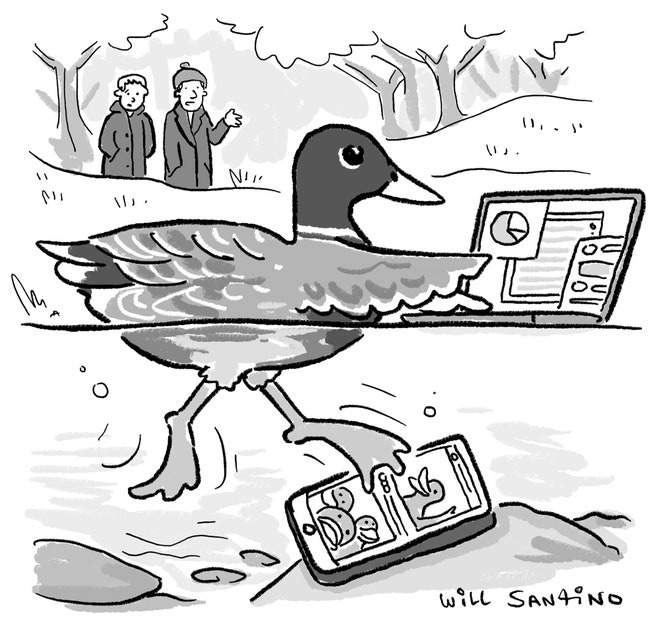 "While the duck appears to be calmly working from home, under the surface it is frantically checking social media." Will Santino @nycartoons
In today's news, as Covid infection numbers, pressures on hospital services, rumours and speculation run riot, the Government is expected to advise people to work from home where possible, but Ministers are to resist any calls for more widespread restrictions.
In even less surprising news, The Irish Times reports that the prospect of the Government "compelling industry to make a significant financial contribution to the cost of mica redress has receded amid concern in the Coalition that the cost of any levy would be passed directly on to consumers."
In climate and environment news, Olivia Kelly asks if Dublin can keep its head above water. With 52km of coastline, three major rivers, and a city centre largely reclaimed from the sea, flooding is the most significant climate change risk facing the city. A timely question, as the news from Cop26 does little to lift spirits, but Tommy Earley in Roscommon might lift them a little.
The Weekend
The latest developments on the resolution of the pension issue for CE supervisors featured in our Services & Enterprises bulletin on Friday, and was again the subject of a parliamentary question last Thursday. Elsewhere, the Examiner was reporting on concerns about poor conditions, low morale and the future of University Hospital Kerry on Friday.
The Business Post reported yesterday that the number of people in receipt of the PUP payment has dropped to 70,000 as the payment reduces by another €50 this week, while Michael Brennan provides a fairly detailed story about the Air Accident Investigation Unit's report into the R116 crash.
The Post's editorial focuses on transparency in state policy as the paper reports a clutch of multinational tech firms sought and were granted confidentiality before meeting a government minister to discuss Ireland's position on new EU legislation designed to rein in those same digital companies.
Zen

Those of you who like a bit of Cold War drama might enjoy one of Netflix's latest offerings. Set amidst the goings-on at RARET, the re-broadcasting office of Radio Free Europe in the (not so) sleepy hamlet of Glória do Ribatejo in Portugal in 1968. The town becomes an unlikely Cold War stage where American and Soviet forces fight through dangerous sabotage manoeuvres to achieve control of Europe. It's a nicely paced, dark and beautifully made bit of telly. Treat yourself. Oh, and click on the image above for today's ear worm.
Have a great week.
Niall