Fórsa members' news bulletin: Education
Wednesday 11th March 2020
Covid-19 guidelines cover education staff

The Department of Education and Skills has published guidelines for special needs assistants (SNAs) working during the Covid-19 outbreak. Fórsa has sought and received confirmation that the circular will also apply to school secretaries and caretakers who have to self-isolate.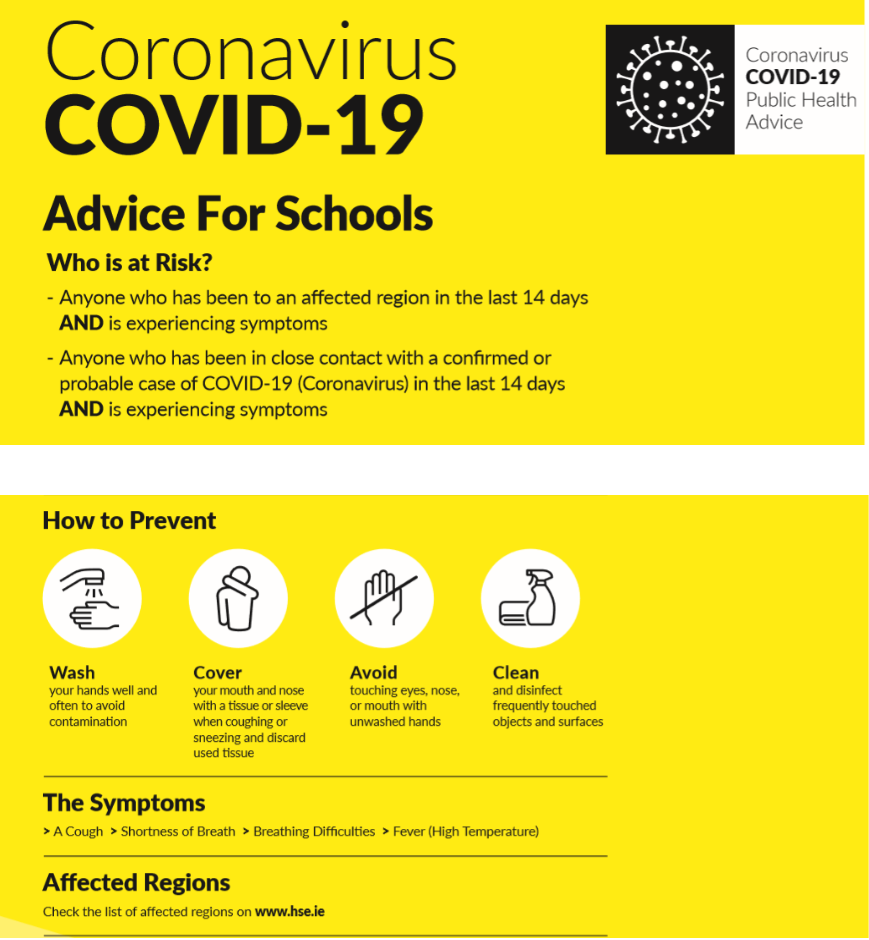 The circular says that special leave with pay can be granted in cases where an employee has been told to self-isolate on medical advice, has an appropriate medical condition, or has received HSE confirmation of a Covid-19 diagnosis.
In these circumstances, sick pay would be paid from day one, and the leave would not be counted as part of the employee's sick leave record. But it requires medical or HSE confirmation of the employee's situation.
The circular, which also applies to teachers, sets out criteria for self-isolation.
It strongly encourages employers to consider flexible working arrangements, like working from home, in cases where staff have been advised to self-isolate. It says special leave with pay can be granted if this is not possible.
HSE guidelines on returning to work should be followed once the recommended period of self-isolation is over.
It also reassures that SNAs will continue to be paid if their school is closed following HSE advice. Fórsa sought and received confirmation that this will also apply to school secretaries and caretakers affected by school closures.
The department has also confirmed that schools affected by the Coronavirus-related closures will continue to receive the full ancillary grant, which is used to pay secretaries and caretakers. This means they will continue to be fully-funded to pay all staff during periods of closure or self-isolation.
Non-school staff
Most Fórsa members in non-school education settings are covered by separate Department of Public Expenditure and Reform (DPER) guidelines, which were issued late last week.
These will ensure that staff receive basic pay, including fixed allowances, if they are required to self-isolate. This will start from day one, but it will require medical or HSE confirmation of the need to self-isolate.
Meanwhile, the Government has agreed to improved basic sick pay provisions for workers who are affected by the coronavirus, but who don't have the protection of a union-negotiated agreement. They will receive higher levels of sick pay from their first day of illness.
This came after the Irish Congress of Trade Unions (ICTU) intervened, saying that limited sick pay provision was unfair to workers who lacked the protection of a union, and also increased health risk by acting as a disincentive to self-isolation.
In response, the Government agreed to increase basic sick pay provisions and waive conditions like the requirement to have a specific number of PRSI contributions. Payments will also be available to the self-employed.
While some – mainly private sector – employers have made arrangements for staff to work at home, official advice has so far fallen short of recommending the cancellation of large gatherings. That may well change in the coming days.
Read the education department guidelines HERE.
Read the DPER guidelines HERE.