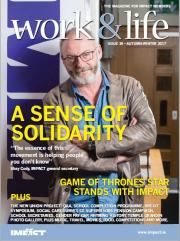 The latest edition of Work & Life will be in workplaces from next week
Fórsa - Time to make history again
When IMPACT was created 26 years ago, the newly-merged union had 22,000 members. Today the union boasts a membership just shy of 60,000 – almost three times the size of the nascent IMPACT that was finding its feet in the early nineties.

The new union project proposes to bring together three unions – IMPACT, the CPSU and PSEU – and a combined membership of more than 80,000, together as one trade union family, under a new name: Fórsa.

In an article for the latest edition of IMPACT's Work & Life magazine, general secretary Shay Cody says Fórsa provides the opportunity for trade unions to move up another gear.
Read more here
Legal advice:
1850776644
Counselling line:
1850776655
Domestic assistance:
1850776644

MORE GREAT BENEFITS

www.impact.ie
Click

HERE

to contact IMPACT.

*BREAKING NEWS*




IMPACT pushes Government on minimum wage

IMPACT has called on the Government to immediately implement the recommendations of the Low Pay Commission to increase the national minimum wage.

IMPACT general secretary Shay Cody said, "In light of pay movements for IMPACT members in the public service, commercial semi-state and in private companies, we believe it's necessary now to ensure pay improvements for those on the lowest wage rates in the country. We are urging the Government to move quickly on this issue."

SNAs ballot for industrial action



IMPACT has issued ballot papers to its 8,000 special needs assistant (SNA) members on a motion for industrial action. The ballot was in response to the Government's failure, for the fourth year running, to announce SNA allocations before the end of the 2017 summer term.

The SNA allocations establish the number of SNAs that are allocated to individual schools each school year. The ballot was issued to IMPACT members by post in September, and concludes on Friday 13th October.

IMPACT assistant general secretary Barry Cunningham said the lengthy delays to their publication every year since 2014 means SNAs don't know if they have a job to return to in the new school term.

Read more here

Irish Water: IMPACT seeks referendum timetable


Union says new governance plans would enable privatisation





IMPACT has called on the Government to announce a timetable for a referendum to ensure that water services remain in public control, amid fears that proposed new governance structures would increase the risk of privatisation over the coming years.

Read more here

Pre-Budget submission calls for urgent investment


Early IMPACT says €625 million extra needed to achieve acceptable childcare and early education standards





The Government should allocate an extra €125 million in next year's Budget, and at least €625 million extra over the next five years, to ensure that Ireland meets the OECD average spend on early childhood care and education by 2022, according to IMPACT.

In a costed pre-Budget submission launched last week the union said two months' paid parental leave for one parent should also be introduced next year, at an extra cost of €84 million, and called for fees paid by parents to be capped as a condition of public funding of early childhood providers in future.

Read more here

Congress calls for 50,000 social housing units


Campaign demands penalties for hoarding land

The Irish Congress of Trade Unions has called on the government to urgently initiate a major local-authority led programme to generate 50,000 social housing units over the next five years.

Congress has also called for the introduction of measures to penalise 'land hoarding', speed up the planning process and to create a new rental model for Ireland.

Read more here

Save with the new IMPACT discount scheme


Scheme provides discounts on hundreds of brands





IMPACT has officially launched its new group scheme for members.

Offering discounts from hundreds of brands and retailers, the scheme is uniquely provided to members of IMPACT as a benefit of their union membership.

Find out more here
| | |
| --- | --- |
| Copyright © 2017 IMPACT Trade Union. |        |