Fórsa members' news bulletin
Services & Enterprises
Tuesday 27th March 2018
New structures boost staff involvement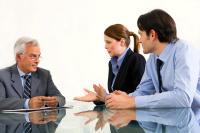 The key to effectiveness in resolving disputes under the IDRB model is giving workers a genuine input into the process.
Internal dispute resolution boards, which are emerging in various commercial semi-state companies, have boosted consultation and worker input on strategic issues that impact on members' jobs and working conditions, according to Fórsa official Johnny Fox.
In a paper to the prestigious Industrial Relations News annual conference earlier this month, Johnny said new procedures initially aimed at reducing the threat of industrial disputes had led to pay deals and increased worker input on big ticket issues.
Fórsa is currently supporting the introduction of internal dispute resolution boards in a number of State commercial companies, including the Irish Aviation Authority, Dublin Airport Authority, and Coillte.
Union sources say a similar initiative in Aer Lingus has recently incurred problems because of management attitudes. But they are working well elsewhere.
"The process gives us the opportunity to discuss the likely impacts that new and changing environments will have on the organisations and the services, jobs and incomes they support. This gives the union the opportunity to offer its perspectives on big issues, and to develop policies and approaches capable of improving and protecting jobs, pay, and conditions of employment," said Johnny.
He said one recent example of an internal dispute resolution board (IDRB), in the Dublin Airport Authority, showed how the mechanism could go beyond dispute resolution.
"It ensures that the parties remain engaged on issues through various stages, as an alternative to allowing disputes to develop before resorting to action – whether that's industrial action or protracted referral to the State's dispute resolution bodies," he said.
Johnny said the key to effectiveness in resolving disputes under the IDRB model is giving workers a genuine input into the process.
Johnny said these new industrial relations mechanisms had also exposed workers to more information about the challenges facing their employers, and helped the union engage with members and management to find acceptable responses.
"This has led to an increase in the number of local Fórsa representatives, and the development of more active representative structures which, in some cases, leads to an increase in new members," he said.