Fórsa members' news bulletin
Health & Welfare
Friday 1st October 2021
Care services suffering 'talent flight'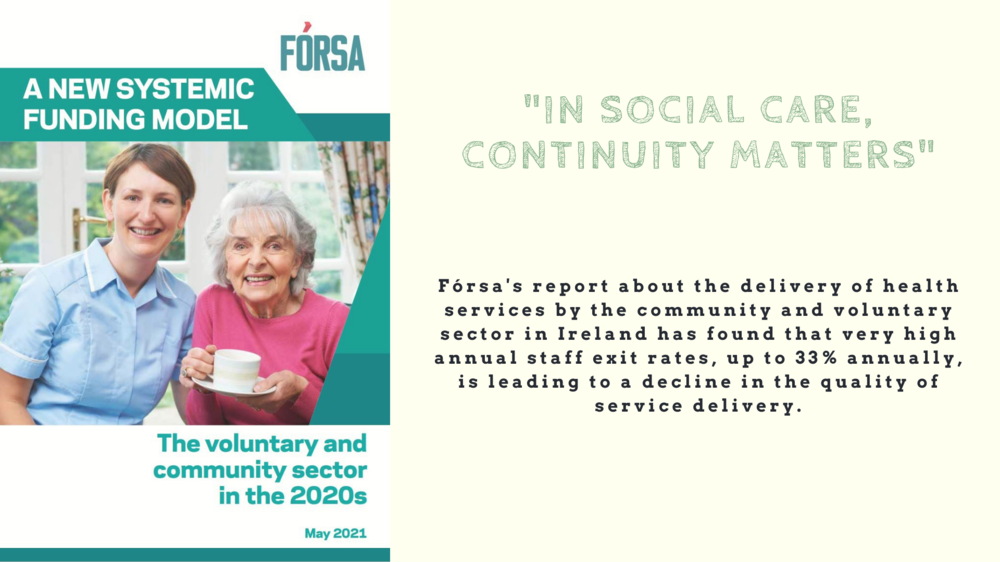 A New Systemic Funding Model: The voluntary and community sector in the 2020s examines the need to rebuild and refinance the voluntary and community sector with a more sustainable and appropriate funding model
High staff exit rates of up to a third a year are damaging the quality of service delivery in Ireland's community and voluntary sector in Ireland, according to a new report launched by Fórsa this week.
A New Systemic Funding Model: The voluntary and community sector in the 2020s examines the need to rebuild and refinance the voluntary and community sector with a more sustainable and appropriate funding model. It was written by researcher Brian Harvey.
The sector provides a range of vital services to people with disabilities and older people, funded by section 39 of the Health Act. Services to people experiencing homeless are funded through section 10 of the Housing Act, while 'section 56' organisations that provide services to children are funded by the Department of Children, Equality, Disability, Integration and Youth via Tusla.
The report also looks at the implications of the continuing disparity in employment terms between health workers in the community and voluntary sector and those directly employed by the HSE. It identifies a significant 'talent flight' as staff seek better terms and conditions of employment in the HSE and other services, while costs are driven up by the additional recruitment activity necessitated when staff move on.
Fórsa official Catherine Keogh said a survey of Fórsa members for the report revealed a widespread sense of anxiety, anger and resignation among workers in the sector. She said they were experiencing significant increases in workload each year, even before the additional pressure brought on by the Covid pandemic.
"Workers throughout the sector are feeling frustrated with the current system. Pay scales and conditions vary considerably from one organisation to the next, which means that workers who do the same job are treated differently and paid less depending on where they work," she said.
The union says the disparity in terms and conditions between these agencies and the alternatives, such as direct employment by the HSE or the private sector, has made the talent flight a real problem.
"Annually, this is about a third of staff from these organisations. Employers are often in competition with the HSE to hold onto their most experienced and knowledgeable staff.
"Employers in the sector do recognise this as a serious challenge. Retaining staff, and attracting new staff, has become an issue of grave concern. Fórsa's research shows that there would be serious gains for their organisations if parity of terms and conditions could be achieved through the implementation of a new funding model.
"Other benefits of a new funding model would include more successful recruitment and retention, in addition to reduced costs, improved services and better planning," she said.
The research identified two distinct labour markets in these services, with an identifiable pattern of staff movement from section 39 and section 10 employments to other agencies. The report says the community and voluntary sector has become a career stepping stone as the flight of workers from the sector continues. It also identified a sense of non-attachment for some workers to their job.
Catherine said while the pay restoration process has seen some improvement, it remains incomplete, while the financial situation of many of the voluntary organisations affected remains dire. "Disparity of pay and conditions can't be seen in isolation, but as part of a broader set of problems affecting the voluntary sector.
"Voluntary organisations have stressed how multi-annual funding is the most effective way to provide some certainty for these organisations and their staff, and to address the specific challenges they're facing. This would help to secure parity of pay conditions across the sector, the benefits of which are successful recruitment and retention of staff, in addition to improved morale.
"A new funding model would ensure that the community and voluntary sector could secure an experienced staff who stay longer in their jobs, which would improve services in the longer term," she said. You can download a copy of the report HERE.
Listen back: Fórsa official Catherine Keogh spoke to Clem Ryan on KFM on Wednesday (29th September) about the union's new report on the community and voluntary sector. Listen back HERE from 04:17.