Fórsa members' news bulletin
Education
Friday 21st May 2021
Remote work will boost output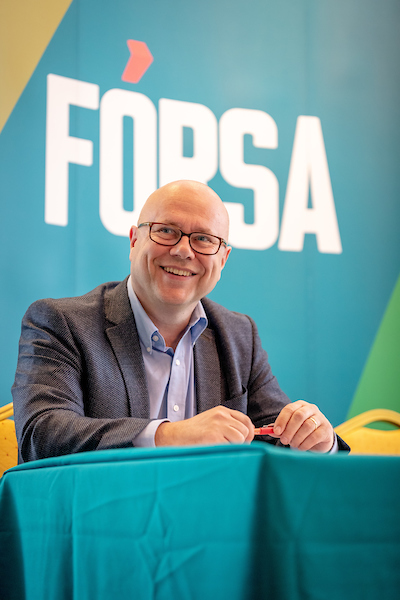 Fórsa general secretary Kevin Callinan, who is also a member of the NCPC, said the union supported State plans for a legal right for employees to request remote working
Fórsa has welcomed the publication of a National Competitiveness and Productivity Council (NCPC) bulletin, which says Ireland could experience a productivity boost if remote working is embraced and well-managed at national and organisational levels.
The NCPP says enterprises could benefit from remote working arrangements by gaining access to a broader pool of talent, promoting retention, and improving cost-effectiveness while engaging in more sustainable ways of working.
Citing both opportunities and challenges for employers, it references a number of studies that identify the potential for increasing productivity through remote or 'blended' working.
Fórsa general secretary Kevin Callinan, who is also a member of the NCPC, said the union supported State plans for a legal right for employees to request remote working. And he called on the Government show a lead by negotiating comprehensive guidelines on remote working for application across the civil and public service.
"The Covid experience has removed a 'trust' barrier to remote working because studies show it's delivered stable or improved productivity, while generally working for staff too. Remote and blended working will continue to be a major feature of work organisation across the globe.
"Nations and businesses that fail to embrace it will be left behind in the race for talent and investment. Ireland needs to be at the forefront and, as Ireland's largest single employer, our Government must give a lead while continuing to support workers and businesses in the transition," he said.
Last month, Kevin wrote to public expenditure minister Michael McGrath seeking engagement with Fórsa on its claim designed "to reach agreement on a clear and consistent public service approach to remote working, based on principles of fair access, adequate employee protections, and robust measures to underpin continued public service quality and productivity."
The union wants discussions to take place under the auspices of the new public service agreement, Building Momentum, which commits management and unions to establish the public service as a "driver of best practice" on remote work.
It's never been more important – or easier – to get the protections and benefits of union membership. Join Fórsa HEREor contact us HERE.