Fórsa members' news bulletin
Civil Service
Thursday 5th July 2018
Fórsa youth – meet the team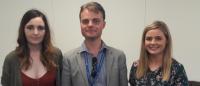 Yvette Kelly, Osal Kelly and Irene Tiernan who were recently elected officers to the youth committee.
Fórsa's youth committee has been hard at work establishing its presence, since its launch in May. The Great Fórsa Quiz was the inaugural event and the committee has since been developing a number of social and workplace campaigns.

New entrants pay, the housing crisis and precarious working conditions are high on the agenda.

Three new officers were recently elected to the committee. I spoke to Osal Kelly (chairperson), Irene Tiernan (vice-chairperson) and Yvette Kelly (secretary to the committee) to find out more.

Osal Kelly is a clerical officer at the Department of Foreign Affairs and Trade, and became involved in youth and social issues during his time at university.

He's conscious of the challenges younger members are facing. "My priority is to develop the Fórsa youth committee as a group equipped to campaign for pay equality for young public servants, and to end the scandal of precarious employment blighting younger workers," he said.

Osal hopes that the youth committee will also help fortify the trade union movement. "I hope to strengthen the links with activists in other unions and show the continuing relevance of trade unions to young people."

As secretary to the committee, Yvette Kelly works at the Department of Justice and Equality. She is focused on the issues of mental health and pay inequality. Yvette's passion for workers' rights stems from facing unemployment and precarious work during the economic crisis. She began to question the injustice and unfairness facing many.

"The systematic inequality and the class logic that deepens injustice faced by workers hit home with me," she explained.

Yvette's goal is to empower other activists, to lead and organise effectively, in order to build a stronger union. "I want to bring home the main message of trade unions to young people entering the work force that an injury to one is an injury to all," she said.

Irene Tiernan works in the HSE and is PRO for the Sligo Health and Welfare branch. She has been active in the trade union movement for the last two years . Irene hopes that her position on the committee will encourage others to get involved and strengthen the union and views her activism as a form of giving back to the wider trade union community.

"I want to give back to Fórsa as it's invested so much time in me. I feel that by giving my time and commitment that I'm returning on the union's investment in me," she said.

"I joined the youth committee to be a voice for other young workers, and also encourage others to get involved in the union. I want to show how important the union is for young workers and remind them that we are the future and we have power to make positive changes," she said.

If you would like to get involved, please contact Joe O'Connor or Roisin McKane for more information.