Fórsa members' news bulletin
Education
Friday 26th November 2021
Fórsa health insurance webinar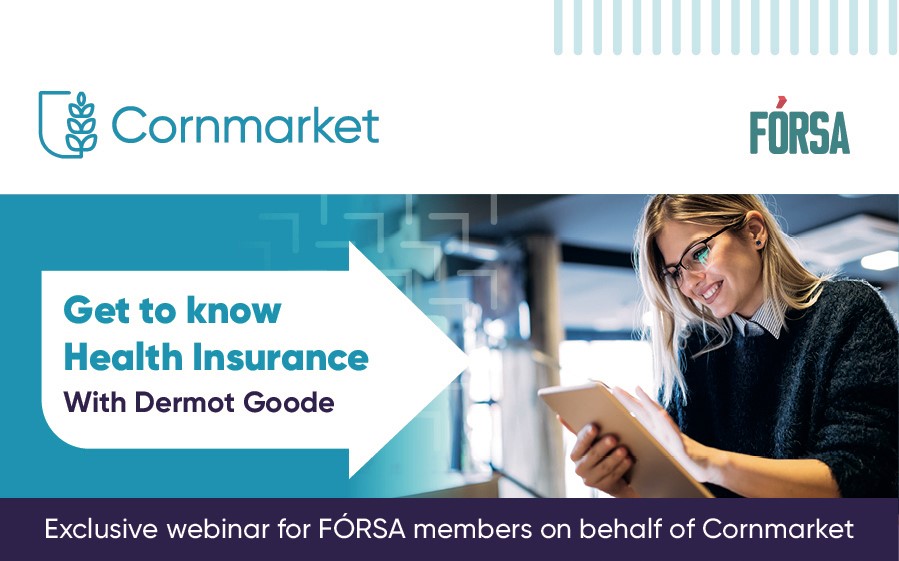 You can register for the day that suits you best to attend.
The penultimate health webinar, organised exclusively for Fórsa members, will look at health insurance options and takes place at 12 noon on Wednesday 1st December. A follow-up session is set for 9th December.
The event will hear from industry expert Dermot Goode, and is hosted by Cornmarket.
Participants will hear some 'myth-busters' on health insurance and get advice on how to make savings when reviewing their insurance options. There'll also be industry updates and advice on legacy plans.
The webinar will also allow attendees to ask questions and will facilitate conversation to ensure members' health insurance questions are heard and addressed.
If you are new to health insurance, the event will also help find the right plan for you and advise on the best benefits and points of focus while selecting a plan.
You can register for the day that suits you best to attend.
Register to attend on Wednesday 1st December at 12pm HERE.
You can register to attend on Thursday 9th December at 12pm HERE.
Dermot Goode is the leading expert on healthcare benefits in Ireland. He has over 30 years' experience in healthcare having worked with VHI, BUPA Ireland, Cornmarket and more.
Find out more about the range of tailored financial products for Fórsa members here.