Fórsa members' news bulletin

Local Government & Municipal Employees
Tuesday 19th February 2019
Women and girls strategy meeting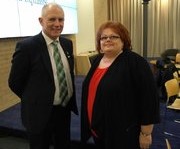 Chair of Irish Congress Women's committee Margaret Coghlan (FORSA)with Minister David Stanton after a meeting of the National Strategy for Women and Girls group.
Fórsa's Margaret Coughlan was among representatives of the Irish Congress of Trade Unions (ICTU) who recently took part in a meeting of the National Strategy for Women and Girls committee, chaired by Minister of State at the Department of Justice and Equality David Stanton.
Margaret chairs ICTU's women's committee.
The National Strategy for Women and Girls report 2017-2020 provided a framework for action to address obstacles to women's equality and to advance women's leadership in a variety of areas. Implementation of the plan is monitored and run by the committee, which is comprised of a number of stakeholders including ICTU.
The strategy focused on the needs of working women by proposing increased investment in childcare, action to tackle the gender pay gap, and improvements to the conditions of women in precarious employment.
It also promoted improved access to education, training and employment opportunities for women in difficult circumstances, such as lone parents.
The report is available HERE.