Fórsa members' news bulletin
Services & Enterprises
Tuesday 24th April 2018
Aer Lingus warned of possible action over breach of agreement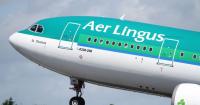 "Alterations to a collective agreement require the agreement of the parties and Fórsa does not accept that Aer Lingus can unilaterally alter a collective agreement" - Fórsa head of division Angela Kirk.
An emergency motion to Fórsa's Services & Enterprises Divisional conference called on the union to take action to ensure that Aer Lingus complies with a union-management agreement covering staff consultation. The move came after the airline announced it intended to withdraw unilaterally from an 'Internal Dispute Resolution Board' (IDRB), which was established in 2016, at management's request, to help reduce conflict and the prospect of industrial action.
IDRBs are now common in the commercial semi-state sector and aviation, where they provide a forum for discussions and staff input on business decisions that may impact on jobs, pay and working conditions.
Aer Lingus wrote to Fórsa last month to say it was withdrawing from the Aer Lingus IDRB. In a response on 4th April, Fórsa head of division Angela Kirk said the union regarded this as a breach of a collective agreement.
"Alterations to a collective agreement require the agreement of the parties and Fórsa does not accept that Aer Lingus can unilaterally alter a collective agreement. Fórsa will continue to refer appropriate cases to the IDRB. We reserve the right to take whatever action we deem appropriate in order to ensure compliance with this collective agreement," she said.
In her opening address to conference, outgoing divisional chair and Aer Lingus worker Gillian White said the company IDRB was working for both management and staff.
"We have established a more effective voice for staff in the company and we felt there was more chance that management would start to listen. But they have walked away, in my view because they were not getting their way on every single issue.
"It's inevitable that, if this unnecessary and ill-advised act is not reversed, it will be more difficult to conduct productive industrial relations, and deal constructively with the conflicts that inevitably arise in this highly competitive sector," she said.
Creative
Fórsa has negotiated the introduction of IDRBs in a number of State commercial companies including the Irish Aviation Authority, Dublin Airport Authority, and Coillte. The union sees them as creative industrial relations fora that can avoid disputes and the threat of disputes, while reducing dependence on the Labour Court and other state dispute mechanisms.
Ms White told conference delegates: "IDRBs result in a more engaged and informed workforce, more consultation and staff input into business decisions, greater understanding of the competitive and regulatory environment among workers, and a better understanding of workers' fears among managers. All this contributes to a better environment with fewer industrial disputes, and more agreements on terms and conditions of employment."
Ms White said workers across the private and semi-state sector – including in telecoms, aviation and postal services – were facing the challenge of increased competition, new regulatory regimes, structural changes and, in some cases, the threat of privatisation.
"For many of them, including aviation, recovery and economic growth themselves bring challenges for workers as management seeks more and more productivity as labour markets tighten. But labour market pressures bring opportunities to improve pay, conditions and union representation too.
"For example, it is clear that pilot shortages – coupled with the long-standing and courageous campaign of our Ialpa branch – are what drove Ryanair to talk to this union at the end of last year. There is a very long road to travel to normalise collective bargaining in the company. But I think this conference will rightly want to applaud the work and commitment of Ialpa and our officials in bringing about this important breakthrough," she said.
Text of the emergency motion proposed by Fórsa Services and Enterprises Divisional Executive Committee:
"Following receipt of correspondence from Aer Lingus management dated the 9th March 2018, which indicates management's intention to unilaterally withdraw from a collective agreement which established the existence of the IDRB we call on the incoming Divisional Executive to take what steps it deems appropriate to ensure that Aer Lingus honour the terms of the this agreement."