Fórsa members' news bulletin
Health & Welfare
Friday 18th June 2021
Citizens' Assembly calls for action on gender, work and pay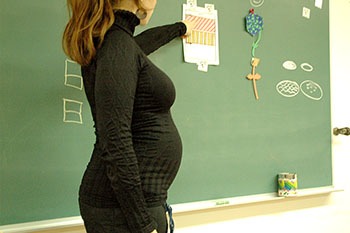 The majority of OECD countries provide maternity payments that replace over 50% of previous earnings.
The Citizens' Assembly on Gender Equality has published its final set of recommendations to inform the Houses of the Oireachtas' debate and decisions on the issue over the next coming years.
The latest recommendations include a call to close the gender pay gap through legislation, and to align the minimum wage with the living wage by 2025, and to delete Article 41.2 of the constitution, commonly known as the 'Woman in the Home' clause.
The Assembly has also recommended improved pay and access to pensions for paid carers, changes to the carers' allowance, and respite and pensions for family carers. The report highlighted that 98% of full-time carers are women, while twice as many unpaid female as male carers provide over 43 hours care per week.
The assembly, made up of 99 citizens from across the country, made recommendations on pay and other workplace issues, as well as care and childcare, violence against women, social protection, politics and leadership.
The Assembly recommends over the next decade, Ireland must move to a publicly funded and accessible model of quality childcare and called for an increased share of GDP to be spent on childcare, from the current 0.37% of GDP to at least 1% by no later than 2030 in line with the UNICEF target.
Fórsa National Secretary Andy Pike welcomed the recommendations, and said Ireland was at the beginning of a long road in the campaign to achieve gender equality, and that the recommendations on childcare, gender quotas, pay, and social protection had the potential to bring about real and meaningful change.
"The specific recommendation contained in the report on childcare and carers is very comprehensive and likely to form the background to discussions on gender equality for the next few years.
"Achieving them, including the deletion of the 'women's place in the home' clause, would be welcome first steps, and the Oireachtas must now respect the devotion and commitment of the assembly by accepting their recommendations and implementing them without delay," he said.
Representation
The majority of OECD countries provide maternity payments that replace over 50% of previous earnings. In Ireland, less than one-third of gross average earnings are replaced by the maternity benefit.
Ireland's gender pensions gap is also particularly concerning given that 90% of 'qualified adults' are adult women, while some 86% of lone parent households are headed by women.
On the issue of political representation, the report recommends extending the gender quota for party candidates at elections and for this to be reviewed every five years, with penalties for parties that do not meet the statutory gender quotas, and that funding to public bodies must be made contingent on reaching a 40% gender balance quota by 2025.
The full report and recommendations of the Assembly can be accessed HERE.