Fórsa members' news bulletin
Civil Service
Thursday 9th April 2020
Bringing culture to you at home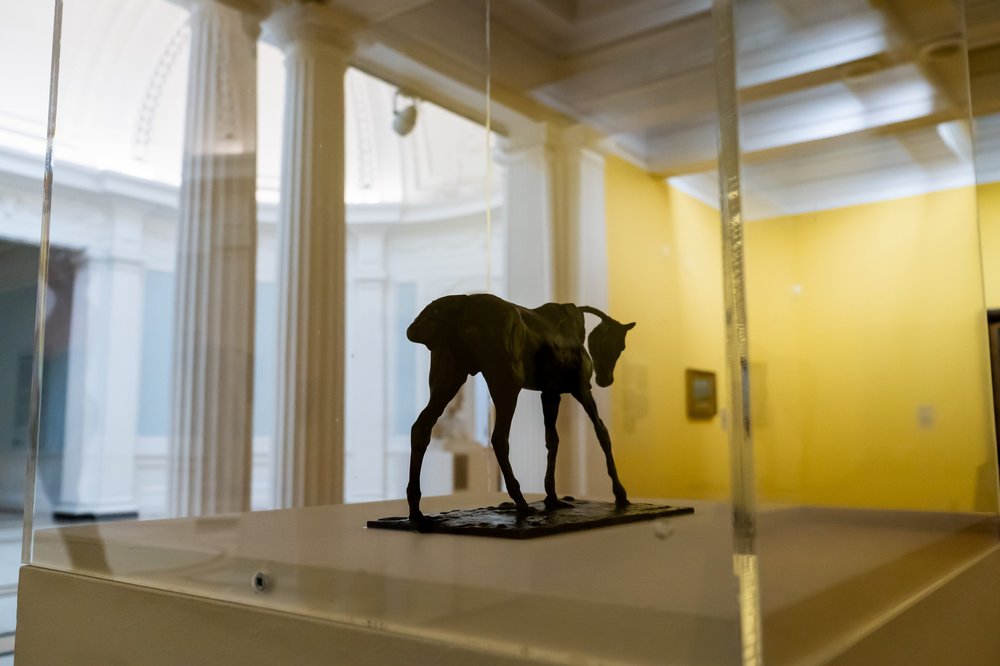 Edgar Degas' Thoroughbred Horse Walking' is a beautiful sculpture housed at Dublin's Hugh Lane Gallery.
Cultural institutions across the country were forced to shut their doors on 12th March, in one of the earliest restrictions linked to the Covid-19 pandemic.
Since then, Fórsa members and others in galleries and museums have been adapting to the new cultural landscape, and developing new ways to bring the arts to you in your home. Here's a look at what's on offer.
Chester Beatty Library: Since closing its doors, the Chester Beatty has developed and expanded its online offering. You can now take a virtual tour in 3D, visit its digital collections or explore learning resources for parents and teachers. It's all on the website or you can also access this array of delights through the museum's new mobile app.
Cork City Gaol: Once home to 19th century prisoners, this heritage site is now in lock-down. But you can wander back in time and explore the wings of the gaol through this online tour.
Galway City Museum: The Galway City Museum has shut up shop. But its public talks are now available as podcasts. Listen to them HERE.
Hugh Lane Gallery: The Dublin City Gallery is home to an exceptional collection of modern art. Under the governance of Dublin City Council, the museum has expanded its collection considerably. Since its temporary closure in March the gallery has invested in its digital services. Bringing you the #museumfromhome series, the gallery now provides online talks, delving into the works of art. For more information on the gallery's online offerings click HERE.
Limerick Museum: The oldest local authority museum in the State boasts one of the country's largest collections. Now, part of its collection is available online. See more HERE.
National Gallery of Ireland: The National Gallery is helping you stay culturally connected with its wide range of online offerings. Currently providing free virtual tours, the gallery has also produced a podcast series designed to support in-depth engagement with exhibitions. In light of the current global crisis, and the anxiety that can bring, the gallery has also migrated their mindfulness workshop online. You can learn more HERE.
National Library: The tomes may be collecting dust, but a range of online services is being maintained, with access to manuscripts, genealogy and digital catalogues still available. Shhh!
National Museum of Ireland: The National Museum is currently working to develop and increase their online content for students, parents and teachers. From archaeology to national history, there's a range of resources available HERE.
The Model Gallery: One of Ireland's most notable public art collections, The Model in Sligo is home to one of the largest public holdings of work by Jack Butler Yeats. Although its doors remain closed, the gallery has implemented an alternative online programme, where people of all ages can learn more about art and artists from their homes. See more HERE.
Wexford Opera House: A virtual visit to the opera is just a click away. Specialising in rarely-heard works, the Wexford Opera House has made productions from 2018 and 2019 available to watch on their YouTube channel.
Feel left out? Let us know if we've missed online cultural offerings from your workplace.