Fórsa members' news bulletin
Services and Enterprises
Friday 29th May 2020
Union sought to save CityJet jobs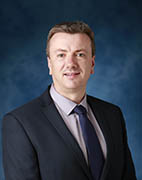 Fórsa official Ian McDonnell said "Our aim was to retain a connection between the airline and its employees in anticipation of a return to growth."
Fórsa trade union's IALPA branch, which represents pilots, has entered a 30-day consultation period about redundancies in the airline CityJet.
The process, required under collective redundancy legislation, follows last week's announcement of up to 280 job losses at the airline's Dublin base.

Pilots had sought to implement alternatives to redundancies, which would have enabled the Dublin base to remain ready for an anticipated recovery in demand later in the year.

Ialpa said almost all the airlines pilots would go under company plans. It said these jobs will be leaving the state, with flights operated by staff based elsewhere.

The airline flies routes on behalf of other airlines including SAS and Aer Lingus. But the Aer Lingus contract, which supported over 1,100 jobs, was recently cancelled. The company employs around 400 people in Dublin.

The union said that CityJet's announcement came despite alternative approaches proposed by Ialpa, including a proposed pilot salary reductions of up to 50%. These measures were proposed in order to facilitate CityJet's exit from the examinership process it entered at the end of April.

Fórsa official Ian McDonnell said: "Our aim was to retain a connection between the airline and its employees in anticipation of a return to growth. It is a uniquely difficult situation, but pilots clearly indicated they were prepared to make significant sacrifices in order to keep the Dublin base operation-ready.
They are currently on the government wage subsidy scheme, receiving €350 per week with no top up from Cityjet.

"Despite the alternative approach we offered, it's become clear that CityJet intends to crew its Irish registered aircraft out of Dublin with employees based in Denmark and possibly other Scandinavian bases," he said.

CityJet has a contract with SAS which is held by its Irish parent company CityJet DAC.

Mr McDonnell added: "It's extremely disappointing, particularly because Mr. Justice Michael Quinn, in granting the examinership, stated the number of people employed in the company was a relevant factor. CityJet's Dublin base has been in operation for 27 years, and many pilots have spent the majority of their aviation career with the airline."

Mr McDonnell said the airline is to provide further information to the union following yesterday's meeting, and expects another engagement in the coming days.
Ialpa says it will continue to present feasible options to CityJet for the retention of Dublin based pilot jobs during the 30 day consultative period. It is hoped Cityjet will accept these proposals and forego the decision to make Dublin jobs redundant.

If you wish to contact the union, click here.