Fórsa members' news bulletin
Education
Tuesday 18th December 2018
School secretaries' campaign gaining momentum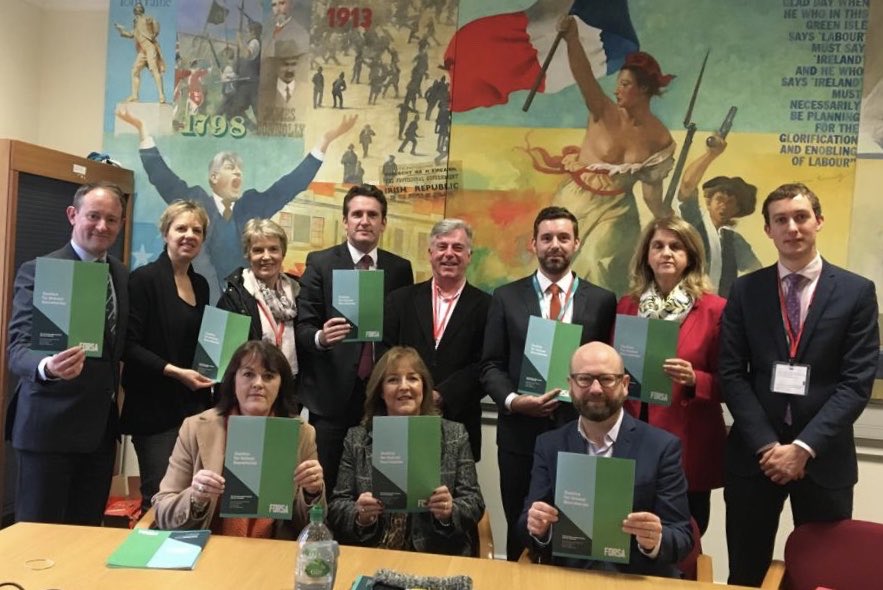 Fórsa school secretary representatives with members of the Labour's parliamentary party.
Fórsa's Support Our Secretaries campaign, calling for fair and equitable treatment for school secretaries, is beginning to intensify ahead of its official launch event on the 17th January.
The campaign aims to highlight the need for standardised and more secure employment terms for school secretaries, most of whom also work without any pension provision.
The official launch event for the campaign is taking place in the Members' Room at the Royal Irish Academy on Dublin's Dawson Street*, and will feature a number of speakers, aiming to highlight the issues schools secretaries face regarding pay and conditions.
The campaign's launch will also coincide with the delivery of packs to all schools around the country that contain key messages of the campaign.
Fórsa official Joe O'Connor says groundwork for the campaign is already taking place and that the official launch is the next step of the campaign which will seek to gain public support for the pursuit of reforms.
He said the union is talking to a wide range of public representatives, including Labour's parliamentary party and Fianna Fáil representatives and the party's education spokesperson Thomas Byrne.
Meetings have also been held with members of the Oireachtas Education & Skills committee, independent Senator Lynn Ruane, Sinn Féin TD Kathleen Funchion and an upcoming meeting with Green Party deputy leader Catherine Martin TD.
Fórsa has made a presentation about the campaign to the INTO principals committee in order to grow support. Joe said the presentation was well received and a motion to formally endorse the campaign has been approved by the INTO's executive committee.
*Please note this is a change of venue from an earlier published version of this story.