Fórsa members' news bulletin

Local Government & Municipal Employees
Tuesday 10th April 2018
Strong Fórsa presence at housing rally

Last Saturday's housing rally saw a very strong Fórsa presence as community organisations, homeless services organisations and trade unions took part in the the National Homeless and Housing Coalition's #April7th rally.
Up to 10,000 people are reported to have taken part in Saturday's rally. Participants marched from the Garden of Remembrance to Custom House Quay.
Kevin Callinan, Forsa's deputy general secretary and vice president of the Irish Congress of Trade Unions, addressed the rally. He described the latest homelessness figures as a "shame and a blight on our society." February's figures show almost 10,000 individuals are homeless, of whom 3,755 are children.
Kevin added, "Where stands the Republic if they can't vindicate this basic right. What is liberty without social solidarity and equality? We need a national policy once and for all to make the country's national resources work for the people."
He said trade unions are to mobilise to press for the building of 10,000 public homes every year for the next five years.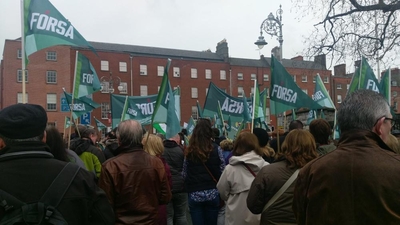 Colours
Fórsa lead organiser Joe O'Connor estimated there were about 150 Fórsa supporters taking part in the rally.
"We had fantastic support from Fórsa members who travelled from all over the country to attend the rally. From Cork, Kerry, Galway and Donegal, and all points in between, and with our Fórsa colours making their first appearance at a rally of this kind.
"We had an important message to deliver to our Government last Saturday. We are witnesses to the worst housing crisis this country has seen in a century.
"Future generations may look back and wonder why it took so long for Irish society to demand action. We must ensure they don't suffer the consequences of failing to act. We need to reverse the continuing rise in homelessness we are currently witnessing," he said.