Fórsa members' news bulletin
Health & Welfare
Tuesday 19th February 2019
Important win at Sunbeam House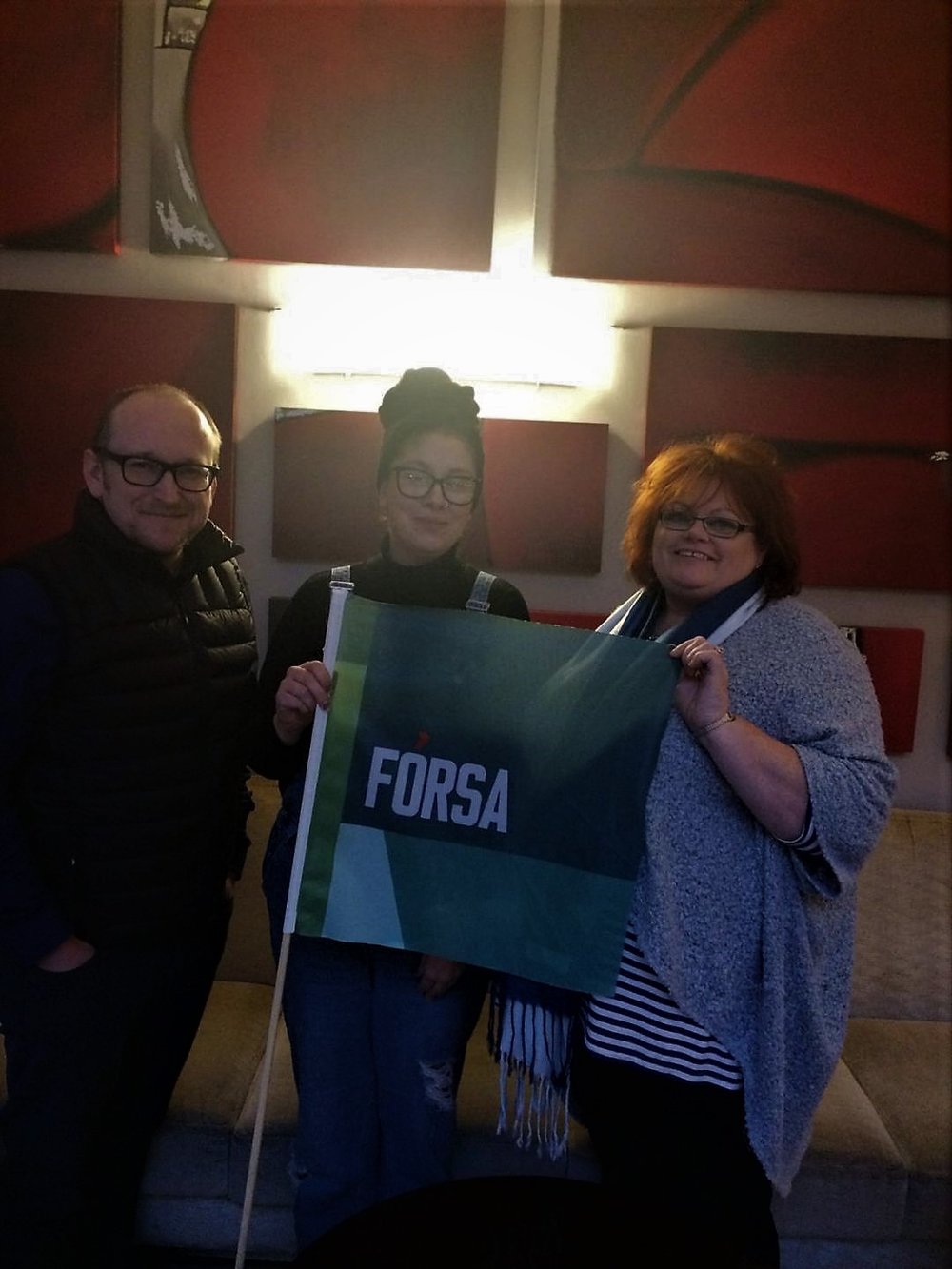 Fórsa offical Ryan McKinney pictured with Rachel Elliot and Margaret Coughlan of the Wicklow Health & Welfare branch.
Hundreds of workers in Wicklow-based Sunbeam House Services are to get improved pay following significant movement in talks between the HSE, Fórsa and the Wicklow-based intellectual disability service provider. The union's Wicklow Health & Welfare branch last week confirmed that a one-day strike had been postponed on foot of the breakthrough.

The long-running dispute centred on the HSE's refusal to provide Sunbeam with funds to restore pay lost when increments were suspended between January 2009 and January 2016.

But the union has now received a formal proposal, which will see staff moved to the correct point of their pay scale from 1st May this year.

Last year, an overwhelming majority of Fórsa members in the organisation backed industrial action, after face-to-face discussions and a number of conciliation sessions in the Workplace Relations Commission (WRC) failed to result in agreement to restore income lost during the recession.

A strike planned for last March was suspended after the HSE – Sunbeam's main funder – said it would validate the costs involved and allocate appropriate funding. That validation process was completed last June.

But the HSE did not follow through, even though Sunbeam House management accepted that restoration was due, and had carried the liability in its accounts since incomes were cut in 2009.

Fórsa official Ryan McKinney paid tribute to the Wicklow Health & Welfare branch and said important progress had been made because of members' determination and the prospect of further industrial action. "We appreciate that more remains to be done on the issue of arrears, but huge progress has been achieved through determined collective action and the efforts, over a number of years, of local activists including Margaret Coughlan, Rachel Elliot and Ian Harte," he said.

Sunbeam House provides a range of supports, including residential places, to adults with intellectual disabilities at various locations in county Wicklow and south county Dublin.