Fórsa members' news bulletin
Civil Service
Friday 12th November 2021
Pandemic boosted trust in public services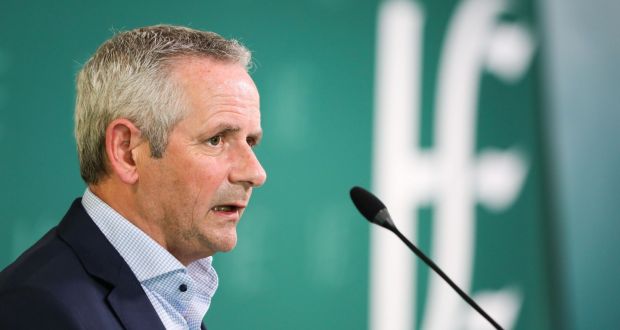 Paul Reid said equality of access to health and other public services remains the priority.
The contribution of public sector workers during the pandemic has boosted trust in public services over the last 18 months, according to HSE chief executive Paul Reid. Speaking on 'quality public services' at the union's enhanced consultative conference earlier this week, Mr Reid thanked Fórsa members and said the public's increasing sense of trust was due to the fast-paced and action-oriented response of the public service.
"I've never seen so much change, implemented so quickly and at such a pace, for so many, for such public benefit as I've seen in the past 20 months."
Pointing to a recent Universum survey on the sectors where people want to work, Reid said there had been a transformation, with workers in many professions now rating public services as the place they want to work and have a career.
"Some of our public services, including the health services, have topped leading social media and tech giants as the more attractive employer. That reflects the public's trust and appreciation in the public services," said Paul.
"There's no doubt that, at the start of the pandemic, many members of the public and staff were quite scared of what we were heading into. And it was quite clear that where the public had to put their trust. It became obvious very quickly that this was going to be about the State's response," he said.
He said equality of access to health and other public services remains the priority.
"This was demonstrated through two of the most fundamental ways we protected people through Covid – the local testing and tracing regime and vaccination pop-up centres throughout the country. You weren't prioritised if you had private care. It was all provided on an equal access basis.
"And that's clearly what our State services should be about," he said.
Mary Murphy, who leads the sociology department at Maynooth university, advocated for a stronger role for local government in the delivery of services.
"The future is public, but it should also be local. Local public services best enable those services to meet what our needs are. They best allow themselves to be inputted by democratic either local participative or representative government."
Mary's worked with Fórsa on the 'More Power To You' campaign for enhanced local services and democracy. Her research confirmed that Ireland's local government system is one of the weakest in Europe.
"Through the local government power index we find that Ireland is really weak on important indicators such the degree to which the local government can write its own laws, raise its own money, make its own policies, and implement its own budget.
"At present, only 9% of government funding goes out to local government in Ireland. The average in a European context is a quarter of government funding being implemented through local government structures," she said.
Citing some of the best practices across Europe, she said over 65% of Danish government spending went through local government structures.
Daria Cibrario of the trade union federation Public Services International (PSI) echoed concerns around equitable access to quality local public services.
"When we don't have equal access to water and sanitation, decent housing to go into lockdown safely, quality care health and nursing services, people die and will continue to die. This has been brutally exposed by the pandemic," she said.
Daria also pointed to the systematic underfunding of local public services, and the role it played in widening the pre-existing inequalities in our societies, and the critical need to tackle it for the fair advancement of public services.
You can watch back the panel's contributions on 'quality public services' by following this link.