Fórsa members' news bulletin
Local Authorities
Friday 3rd September 2021
Harassment targeted in joint campaign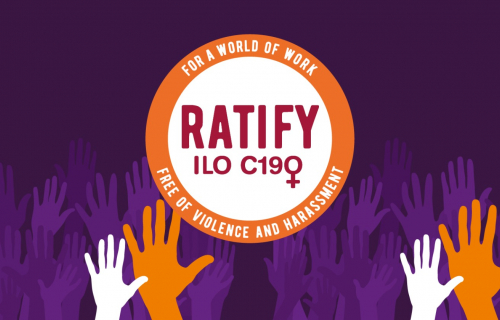 Ireland is publicly committed to early ratification.
Irish unions and NGOs have called for the prompt passage of a new international convention that aims to protect women and other workers from harassment and abuse.
The Irish Congress of Trade Unions (ICTU) has joined ActionAid Ireland and the Men's Development Network to put pressure on the Irish Government to quickly adopt International Labour Organisation (ILO) Convention on Violence and Harassment – known as C190 – and to implement accompanying recommendations.
The ILO is a United Nations body that brings together representatives of governments, workers and employers. Its conventions only become legally binding once they are accepted by members states.
The campaign is calling on the Tánaiste to progress the adoption to make Ireland a "global leader" in formalising the status of C190 and to set a positive example to the rest of the world. As Minister for Enterprise, Trade and Employment, Mr Varadkar has responsibility for ratification of ILO conventions.
Only nine countries have so far formally adopted C190, which was adopted by the ILO's General Conference over two years ago. Ireland is publicly committed to early ratification.
The campaign is also asking the Irish Government to update legislation to oblige companies to take actions to eliminate all forms of harassment and violence against women in their supply chains.
Citing the dangerous and undignified working conditions in industries such as electronics, toys, entertainment, fast fashion and agriculture, ActionAid Ireland says many Irish-based companies source from factories and producers in lower-income countries where employment laws offer far less protection against violence and harassment.