Fórsa members' news bulletin
Civil Service
Friday 26th February 2021
Minimum wage myths exploded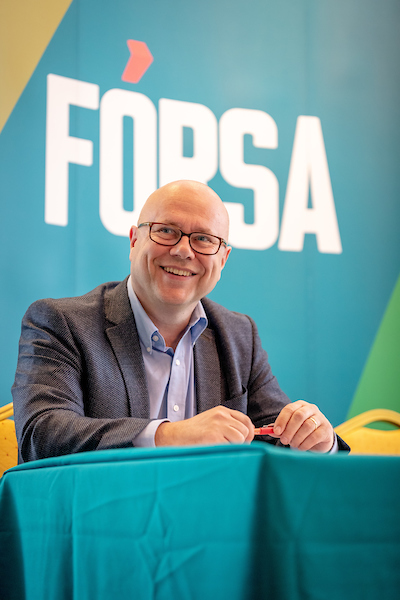 Fórsa general secretary Kevin Callinan said the ESRI report confirmed what unions had argued over many years.
Increases in minimum wage rates don't lead to higher labour costs or job cuts, according to new research from the Economic and Social Research Institute (ESRI).
In a study published last week, it found that the 2016 increase, which raised the minimum wage from €8.65 to €9.15 an hour, led to increased labour costs for just 3% of firms.
The average labour costs in 90% of firms with staff on minimum pay increased in line with those of employers with no minimum wage workers.
Significantly, it also found no evidence that firms cut staff numbers in response to the minimum wage increase. Politicians and economists frequently cite job protection as a reason for supressing low-pay protections.
The ESRI found the increase in the pay floor was effective at reducing wage inequality, particularly for younger workers.
The important findings come as the European Commission cited Ireland's weak minimum wage protections when it launched a draft directive on adequate minimum wages.
Women are almost twice as likely as men to be on minimum pay. Some 60% of minimum wages earners across the EU are female. Related research shows that minimum wage rates can help reduced the gender pay gap.
Fórsa general secretary Kevin Callinan said the ESRI report confirmed what unions had argued over many years. "Minimum wages do not erode competiveness. That's why the proposed EU directive is important because it would mean that the Irish law would have to provide for effective arrangements to achieve better protections against low pay," he said.
The Irish Congress of Trade Unions has argued that potential negative impacts of minimum wage increases are mitigated by increases in the consumption of low-wage earners. This supports demand in the economy as those on lower incomes tend to spend more of any increased pay.
Last year, ICTU withdrew from the Low Pay Commission, which effectively sets the minimum wage in Ireland, because of its recommendation for a paltry increase this year.
ICTU has also highlighted its willingness to engage with the Government and other stakeholders to address any issues around the EU draft directive to ensure that it is adopted as soon as possible and implemented correctly over the coming years.
Read the ESRI report HERE.