Fórsa members' news bulletin
Services and Enterprises
Friday 3rd September 2021
Local employment services under threat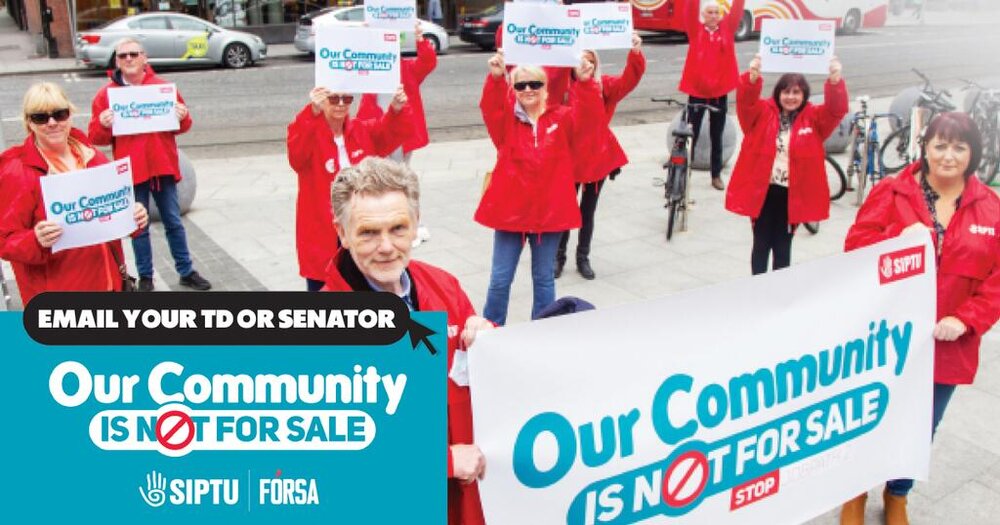 The new model would restrict employment services to people referred on by the social welfare department.
Fórsa members who provide community employment services are balloting for industrial action after it emerged that their jobs and working conditions were in jeopardy as a result of a changes to a Government tender for the future provision of the service.
The staff concerned, who work in local employment services (LES) and jobs clubs, say the Government proposals would 'commodify' job-seekers and make it harder for them to get help.
A demonstration is planned for next Monday (6th September). It's been jointly organised with Siptu – which also represents workers in the sector – under the banner 'Our Communities Are Not For Sale.'
Fórsa official Lynn Coffey said the decision to ballot came after LES management said changes recently introduced into the tendering process by the Department of Social Protection meant they could not guarantee that pay, working conditions or jobs would be protected.
"Jobs are on the line if these changes proceed as planned, with the prospect of staff being thrown out of work as early as January. At the very least, pay and working conditions are likely to be greatly diminished. And vital community employment services will be damaged at a time when over 300,000 people are unemployed or on PUP payments," she said.
Eligible members will receive a ballot paper in the post, and the deadline for returning it is noon on Friday 10th September. The result will be published soon after that.
Lynn said that social protection minister Heather Humphries had so far refused to meet the unions to discuss the issue. "We are demanding that the minister listens to our concerns over jobs and service quality, and we want her to convene a stakeholder forum involving service providers, job-seekers, workers' representatives, government and academic experts," she said.
Local development companies have been delivering community employment and jobs club services for over 25 years. But in May 2021, the social protection department issued a 'request for tenders' for the service. The tender is based entirely on the discredited Jobpath model, which Fórsa opposed.
The new model would restrict employment services to people referred on by the social welfare department. This would exclude groups that currently use the service, including women returning to work, under-18s, many people with disabilities, and anyone who's not on the labour register.
Lynn said the proposals would also 'commodify' unemployed people by introducing a 'fee-per-jobseeker' funding model. "And it would break the successful link with community-based not-for-profit providers, who are connected with local people and bring immense experience, expertise and dedication to the service," she said.
Fórsa says the expertise and experience of local employment staff has been praised by jobseekers, agencies, employers, third-party quality management assessors, independent auditors and policy think-tanks.
Fórsa has sought release from work for members to attend Monday's demonstration, which starts at the Merrion Hotel in Dublin's Upper Merrion Street at 12 noon on Monday 6th September. It finishes at 1.30pm.