Fórsa members' news bulletin
Education
Tuesday 6th March 2018
You can act on housing crisis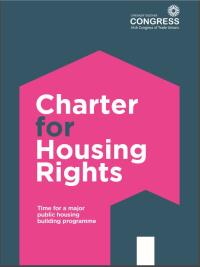 Congress general secretary Patricia King says a critical component of resolving the crisis "must be a major public housing building programme, as part of a wider strategy of transition to a European cost rental model and the creation of a secure and sustainable housing system for all."
The Irish Congress of Trade Unions has developed an online tool that enables trade union members and other to send a direct message to their constituency TDs, urging them to support the Congress Charter for Housing Rights.

The Charter was developed, with input from Fórsa and other unions in response to the escalating housing crisis.

Congress general secretary Patricia King says a critical component of resolving the crisis "must be a major public housing building programme, as part of a wider strategy of transition to a European cost rental model and the creation of a secure and sustainable housing system for all."

The Charter includes a number of principles which Congress is urging the Government to adopt and fully implement.

Send a message

The online tool allows you to send a message to TDs in your constituency urging them to back the Charter. The online tool also recognises that a number of party and non-party TDs have already pledged their support, enabling users to send a message of thanks.

To lend your voice to the Charter campaign, simply click here and you will be guided through the required steps.