Fórsa members' news bulletin
Services and Enterprises
Friday 1st May 2020
Fire fighter joins Michael D in ceremony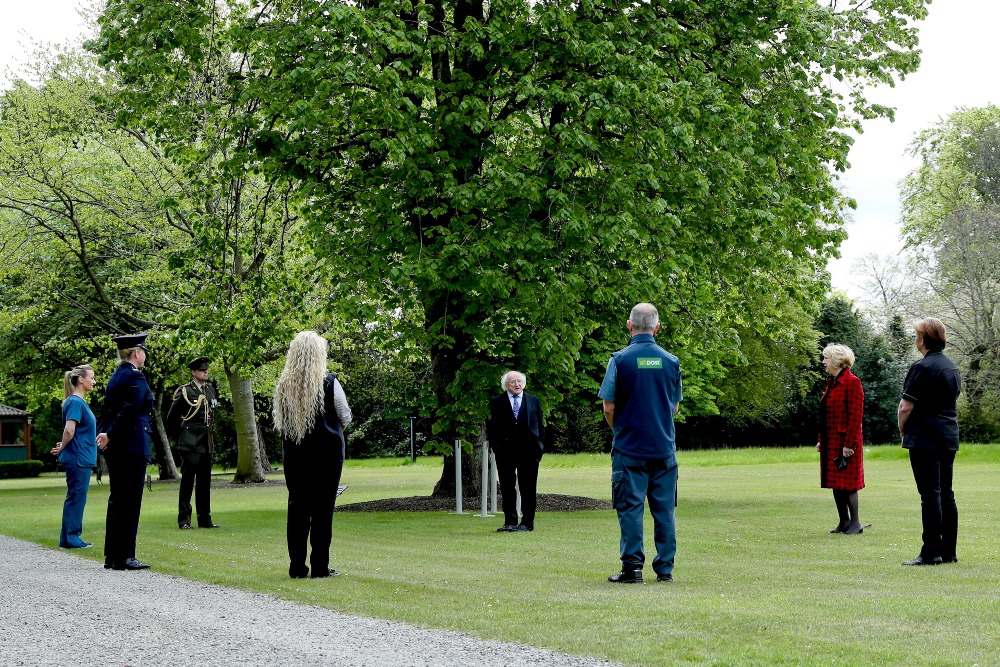 Four other workers pictured with Maria also took part in the ceremony – a cleaner, a postal worker, a retail worker, and a nurse.
Fórsa representative Maria Markey was one of five workers who joined President Michael D Higgins in a wreath-laying ceremony to commemorate International Workers' Memorial Day last Tuesday.
The day, which remembers workers who have died in workplace accidents, this year focussed on those who've lost their lives to the coronavirus.
Marie has served in Dublin fire brigade for almost 18 years. A fourth generation fire fighter, she's based in the eastern regional control centre on Tara Street where they receive, process and dispatch fire calls for Leinster, Monaghan and Cavan. They also respond to emergency 999 calls with Dublin Fire Brigade ambulances.
Four other workers also took part in the ceremony – a cleaner, a postal worker, a retail worker, and a nurse.
The commemoration, organised in Ireland by the Irish Congress of Trade Unions (ICTU), took place online due to restrictions during the Covid-19 pandemic.
President Higgins welcomed the widespread praise for frontline workers putting themselves at risk every day, but warned that praise alone is not sufficient.
"It is only by closing the gap between words and action in relation to conditions, safety and provision that we can sufficiently and ethically commemorate those workers we honour here today," he said.
He said society could not return to how it was previously.
"It would be an egregious error if, through some form of collective amnesia, we as a society were to forget the efforts of these workers, and revert to the place we were too often before the crisis – a society that often failed to value sufficiently these essential, valuable workers who have made such a contribution to the country during this dark chapter, many, as we acknowledge today, paying the ultimate price," he concluded.
Fórsa official Dessie Robinson echoed these sentiments, saying the ceremony celebrated those currently fighting as well as those who were lost.
"This workers' memorial day raised the importance of investing in good public health care, and strong health and safety measures for health workers and others who risk their health to protect ours," he said.
Fórsa also took part in a social media initiative on Facebook, Twitter and Instagram in which people were encouraged to light a candle in their windows at 9pm on 28th April to remember workers who've died.
Members across the country posted photos online using the hashtag #IWMD20 in honour of the occasion.
See the full ceremony with President Michael D Higgins HERE.

If you wish to contact the union, click here.