Fórsa members' news bulletin
Health and Welfare
Friday 17th September 2021
Sláintecare doomed without cross-party support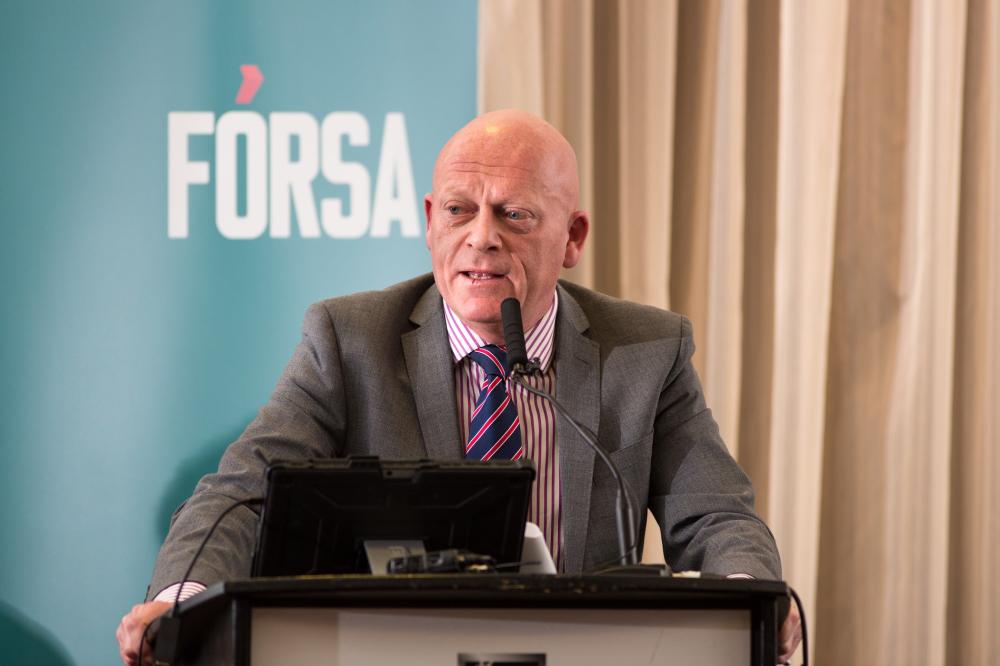 Éamonn said the resignation of senior Sláintecare postholders had caused alarm, despite Government reassurances on its commitment to the programme.
Fórsa has called on the Taoiseach and Tánaiste to take immediate steps to shore up cross-party support for the Sláintecare programme following the resignation of three senior officials associated with the project.
The union's head of health, Éamonn Donnelly, said he feared that no significant health reforms would be implemented without the broad political and stakeholder support that Sláintecare had attracted.
"The whole initiative could be doomed if cross-party support is allowed to fracture. Those at the top of Government must act to quickly remove remaining barriers to reform, and all TDs and elected representatives must resist the temptation to turn this crucial national initiative into a political football," he said.
Éamonn said the resignation of senior Sláintecare postholders had caused alarm, despite Government reassurances on its commitment to the programme.
"The one area where there has been significant progress is the growth of community-led health provision. But some major barriers to the establishment of regional structures and other aspects of Sláintecare have barely been addressed. These include GP restructuring and private practice in public health settings," he said.
"The health service Covid response has been magnificent, and shows just what can be achieved. But the recent resignations are a wake-up call. That's why Fórsa is calling on Taoiseach Micháel Martin and Tánaiste Leo Varadkar to jointly intervene with concrete measures to move Sláintecare forward with the support and input of staff and other stakeholders.
"I'd also appeal to opposition parties to remain constructive. I share the legitimate frustration at the pace of implementation. But I fear a single-tier quality health service, free at the point of need, will never be realised if the health debate descends into a political dogfight again. Cross-party support is the bedrock of the Sláintecare programme," he said.
Earlier this week, the south/south-west hospital group chairperson, Professor Geraldine McCarthy, resigned. This came just days after the chair of the Sláintecare implementation advisory council, Tom Keane, stepped down along with executive director Laura Magahy.
Fórsa joined other health unions in calling for a commitment to transitional funding for Sláintecare in the upcoming budget. The unions also called for a return to the original principles of the Sláintecare plan, including basing the project office in the Department of the Taoiseach and the creation of regional authorities.
In a statement they added that the Oireachtas health committee should meet on this matter urgently.
"The health minister needs to make a clear commitment to the plan and this has to be backed up by firm commitments from his colleagues in Government. Health staff deserve proper clarification and reassurance that employers are committed to the implementation process," it said.
The ten-year plan adopted by the Government promised universal quality healthcare, free at the point of delivery, and an end to private practice in public hospitals. Along with free GP and hospital care, Sláintecare also heralds an end to Ireland's over-reliance on hospital care through a greater focus on community and primary services.
Éamonn said increasing hospital queues demonstrated the urgent need to continue to develop community and primary care services.
"Over-reliance on acute hospital services results in people waiting on trolleys. Community and primary care is at the heart of Sláintecare and we need to accelerate the progress that has already been achieved in this area. With or without Sláintecare, there's no alternative to community-led provision if we want to improve access to services and address hospital overcrowding," he said.