Fórsa members' news bulletin
Services & Enterprises
Tuesday 6th March 2018
Fórsa seeks Stobart recognition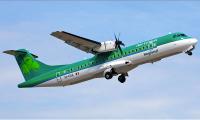 Stobart operates scheduled services under the Aer Lingus Regional brand.
Fórsa has written to management at Stobart Air to seek discussions on a collective bargaining agreement for cabin crew.
A significant number of the airline's cabin crew are members of the union, but the company has previously told Fórsa it won't recognise the union as the representative organisation for cabin crew.
Under recent legislation, the union can refer the issue to the Labour Court once enough staff are in membership.
This report was amended on 7th March to clarify that Fórsa is seeking a collective bargaining agreement specifically for cabin crew at the airline.