Fórsa members' news bulletin
Education
Thursday 5th December 2019
Palestinian youth tells of incarceration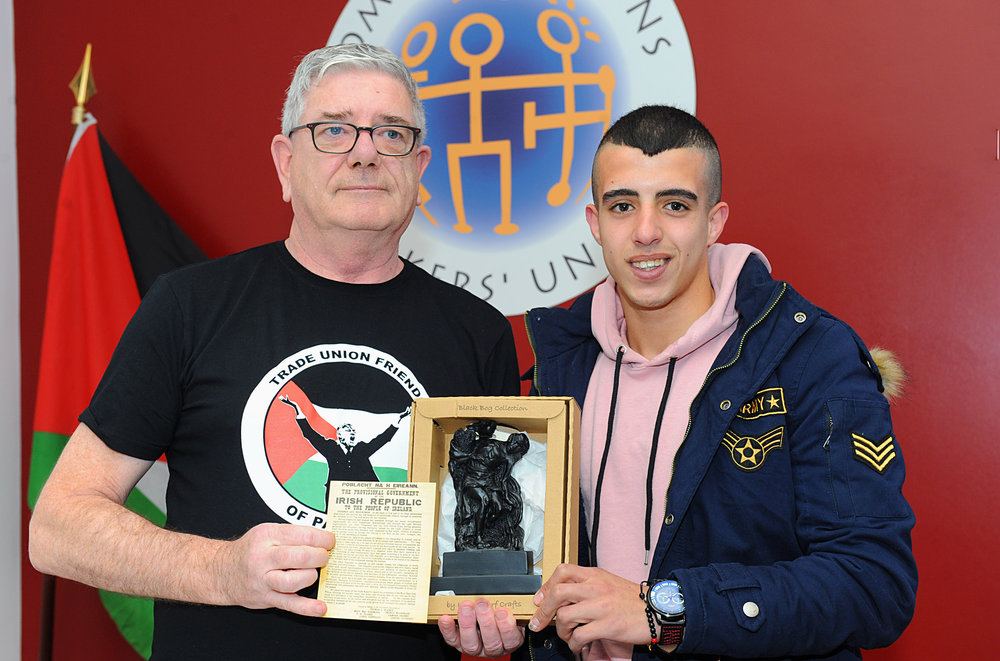 Ahmed Alsoos being presented with a token at the TUFP conference last month.
Palestinian youth Ahmed Alsoos was recently released from an Israeli military jail after a six-month prison sentence for throwing a stone at a soldier – a charge he denies.
Speaking in Dublin last week Ahmed, now 17, recalled the horrors of his time in prison and the drawn-out military court proceedings – during which he had no contact with his family – that led to his conviction solely on the testimony of an Israeli soldier.
He recounted his confinement in a small, stuffy dark room with no windows, and tearfully relived the constant humiliation, degradation and abuse he suffered at the hands of the guards.
Since Israel lowered the age of criminal responsibility, the military can – and do – arrest and confine children as young as 12 years old.
Alsoos was in Dublin to address a conference on the rights of Palestinian children organised by Trade Union Friends of Palestine (TUFP), which called on the Irish Government to halt trade links with Israel in protest at the systematic maltreatment of Palestinian children by the Israeli military.
Speaking on behalf of TUFP, Fórsa official Denis Keane said an Israeli strategy of mass arrests and maltreatment of Palestinian children was being implemented on an "industrial scale," and appeared to be part of a deliberate policy to traumatise large numbers of children.
According to UNICEF, the United Nations agency for children, 59 Palestinian children were killed by Israeli forces in 2018. Another 3,472 were injured, while over 200 children – some as young as 12 – were detained and prosecuted in the Israeli military court system every month.
"Israel is the only country in the world that prosecutes children through military tribunals instead of civilian courts, and even strong allies of Israel have expressed alarm at its treatment of Palestinian children.
"We are calling on the Irish Government to take a stronger stand on Israel's deliberate policy of killing, injuring, imprisoning and traumatising thousands of children. It should end all economic and trade links with Israel until the physical and psychological maiming of Palestinian children stops," said Denis.
Other speakers included psychiatrist Samah Jabr, who spoke about the physical and mental impact of living in a war-torn environment, and the suppressed trauma experienced by children who experienced violent and life-threatening confrontations with Israeli soldiers.
Speakers were united in their calls for greater EU solidarity with the Palestinian people. While they welcomed a recent European Court of Justice decision on the labelling of goods originating from illegal Israeli settlements, advocates argued for stronger action to restrict commercial activities with Israel while children continue to be mistreated.
There was dismay at the weak EU response to the USA's recent announcement that it no longer considered Israeli settlements to be illegal.
Trade Union Friends of Palestine is supported by almost all ICTU-affiliated trade unions on the island of Ireland. For many years the Irish trade union movement has had a strong position of solidarity with the Palestinian people.
Twelve years ago, ICTU adopted a policy of boycott, divestment and sanctions (BDS) to end international support for Israel's oppression of Palestinians and put pressure on Israel to comply with international law.