Fórsa members' news bulletin

Services and Enterprises
Thursday 30th May 2019
Fórsa backs motion for state agencies on pay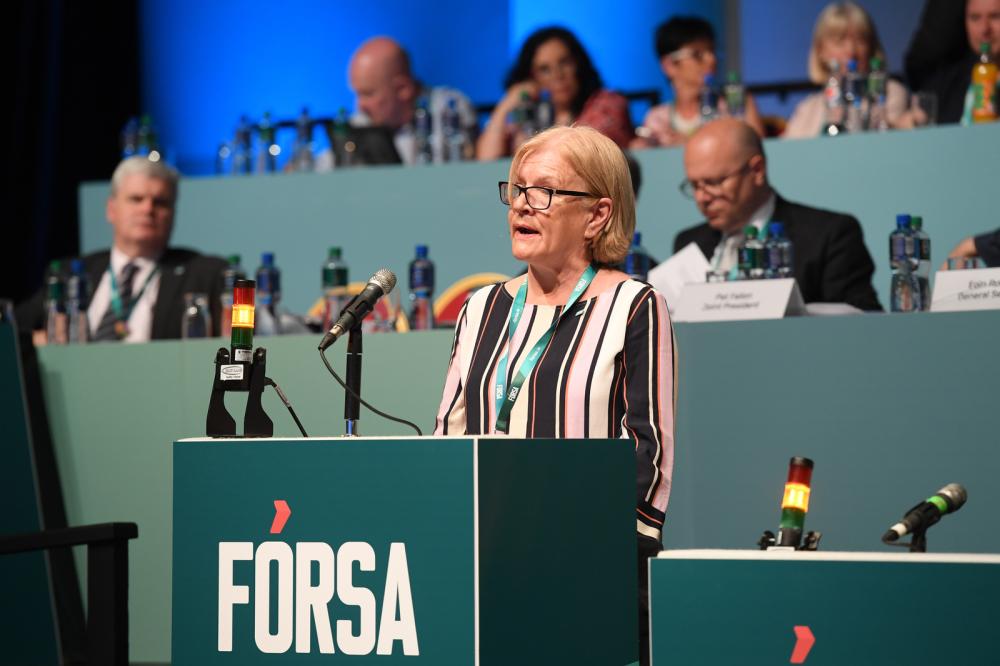 Head of division Angela Kirk said the division's motions to conference reflect the wider concern among Fórsa members about pay movement and organisation
Fórsa's backed a motion at the Services and Enterprises divisional conference in Sligo last week, calling for any variation and improvements on the terms of the current public service agreement to be applied to all public servants irrespective of the sector in which they work.
Proposing the motion on behalf of the union's divisional executive committee, Steve Pilgrim said: "Like everyone else we are keen to ensure that any variation or improvements secured by any group covered by the agreement must be extended to all public servants, regardless of what sector they're working in.
"Recent developments, including confirmation that the PSSA is capable of dealing with grade claims, are of keen interest to many members working in state agencies," he said.
Head of Division Angela Kirk said the division's motions to conference reflect the wider concern among Fórsa members about pay movement and organisation: "We're seeing very positive pay movement for our members in the private sector and commercial semi state.
"The Private Sector Committee of Congress set a target this year of 3.4% pay increases. In setting this rate Congress was mindful of the excessive and escalating costs of housing rental and childcare.
"Pay awards secured by Fórsa last year maintained pace with pay improvements elsewhere in the private sector and in the wider economy.
"The more recent developments with the PSSA agreement are significant and a frequent topic of debate within the union," she said.
The conference motion instructs the incoming divisional executive to "maintain vigilance of the current agreement as it applies across the public service to ensure parity of treatment."
Fórsa's Senior General Secretary Designate Kevin Callinan told delegates at each of the union's divisional conferences this year that his proposal for a mid-term review of the current public service agreement would be an opportunity to reconsider the underlying assumptions of the agreement, and to take account of lost spending power, recent and projected growth rates, and pay movements in the wider economy.
Kevin said public service agreements should also allow for individual grade claims to respond to enhanced responsibilities, higher qualification requirements, additional skills and increased productivity.