Fórsa members' news bulletin
Local Authorities
Thursday 5th December 2019
Employers join four-day week debate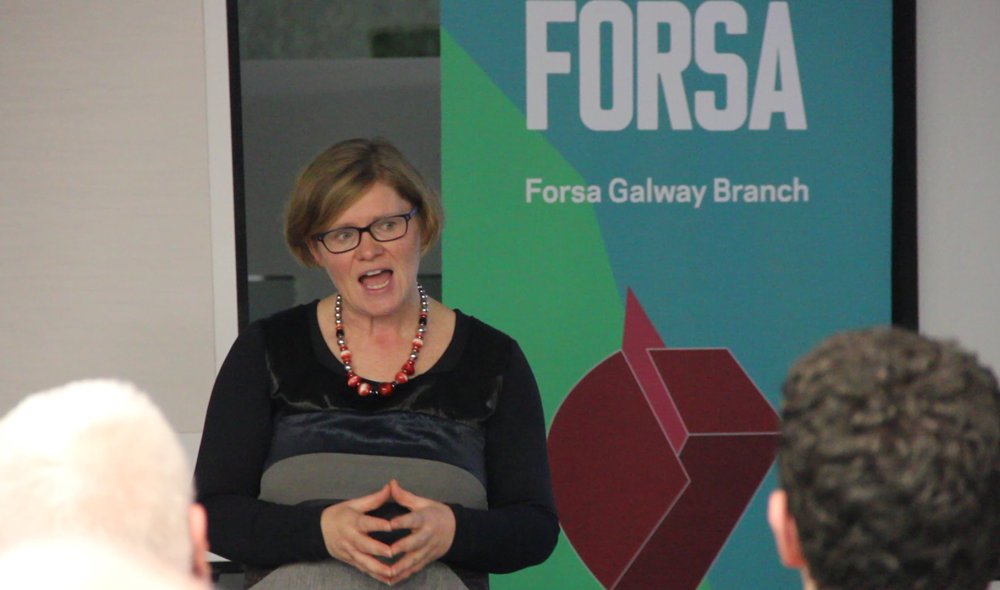 Orla O'Connor of the of the National Women's Council of Ireland speaking at the regional information meetings.
Local employers and members of the public were among those who attended regional information evenings on the Fórsa-led four-day week campaign in the union's Limerick and Galway offices last week.

Representatives from the various pillars of the coalition spoke at the event, including Fórsa campaigns director, Joe O'Connor, Margaret Cox, director of Galway recruitment company ICE, Orla O'Connor and Sandra McCullagh of the National Women's Council of Ireland, and Oisín Coghlan of Friends of the Earth.

Attendees had the opportunity to ask the panel questions about the concept of a four-day week and the benefits it would bring to their lives and workplaces. There was a diverse presence of people from all across society, employees and business owners alike, all keen to learn about what the campaign has to offer.

Joe O'Connor welcomed the interest in the meetings. "As part of the campaign's promotion of the four-day week, it offers support and resources to businesses considering trialling shorter working time. So it was great to have employers present as well as members of the public," he said.

The initiative is the Irish leg of an international campaign to establish a four-day week without reductions in pay or productivity. It aims to achieve a gradual, steady, managed transition to a shorter working week for all workers in the private and public sectors.

Meanwhile, the international campaign is gathering momentum as Microsoft Japan announced that productivity rose by 40% when it tested a four-day week in the summer. Its 'work-life choice challenge 2019' saw the tech giant grant its 2,300-strong workforce five Fridays off in a row, without decreasing their pay.

The Irish four day week roadshow will continue in 2020 with another series of meetings across the country.