Fórsa members' news bulletin

Civil Service
Thursday 18th January 2018
Coalition seeks pension cut reversal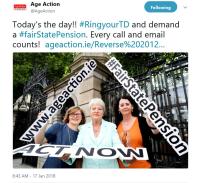 The coalition brings Fórsa together with Age Action Ireland, Active Retirement Ireland, the National Women's Council, the Irish Countrywomen's Association and Siptu
Fórsa joined a broad coalition of unions, and organisations campaigning for pensioners and women, in a demonstration yesterday to demand the reversal of 2012 pension cuts, which fall hardest on women.

The coalition, which brings the union together with Age Action Ireland, Active Retirement Ireland, the National Women's Council, the Irish Countrywomen's Association and Siptu, has also sought an urgent meeting with social protection minister Regina Doherty.

The cabinet sub-committee on pensions discussed the issue yesterday (Wednesday).

It's estimated that as many as 40,000 people – mostly women who left the workforce to rear children or care for others – have been hit by the changes, which mean state pension entitlements are based on an average of the contributions made during each year at work. Crucially, the methodology takes the first PRSI payment as the starting point for averaging, which can drastically reduce the annual average payment for workers who paid PRSI in part-time student jobs.

Those who took time out of the workforce to raise a family, or to care for relatives, after 1994 are not affected. But many of those currently reaching retirement left work before that year.

Fórsa and other coalition members wrote to Minister Doherty last month. "Though greatly disappointed that no measure to address this inequality was announced in October's budget, we welcome your subsequent commitment to find a solution, and your plan to bring a proposal to cabinet," they said.