Fórsa members' news bulletin

Local Government
Thursday 16th May 2019
Action call on housing and climate change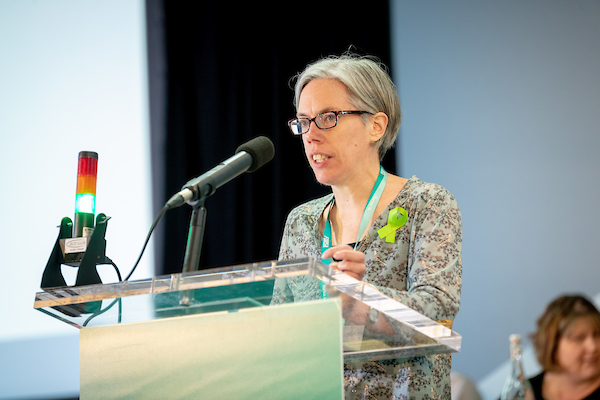 Róisín Cronin of Fórsa's Dun Laoghaire Rathdown branch proposing a motion on the need for public housing.
Delegates at last week's local government conference in Kilkenny backed a number of motions on climate action and the housing and homelessness crisis.

Fórsa's Dun Laoghaire Rathdown branch won backing for a motion on the need for public provision of housing. The branch highlighted the availability of state-owned land zoned for housing, and said no state-owned land should be transferred to private developers.

Proposing the motion, Róisín Cronin said no further local authority housing stock should be sold through tenant purchase schemes and advocated the potential for house building using a cooperative housing model.

Donal Guerin of the Cork Health and Local Government branch also called on the union to seek a greater role for local authorities in the provision of public housing. He said local authorities' over-reliance on the private sector was feeding increased demand for housing and homelessness services.
Climate concern
Both the union's Cork and Leitrim branches brought motions on the need to address climate change.

Donal Guerin told delegates: "Fórsa must be part of the solution." He won the backing of delegates on a motion calling on the union to state its support for the national campaign to force the Government not to licence further exploitation of fossil fuels.

The motion from the Leitrim branch called for measures to reduce travel-related emissions from commuters, including measures allowing local government staff to work from their nearest office or from home.