Fórsa members' news bulletin
Civil Service
Thursday 10th May 2018
Delegates back green ribbon message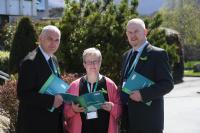 Niall McGuirk, Ann McGee and Kieran Sheehan sporting green ribbons at the Civil Service Conferece in support of See Change's "green ribbon campagin".
Delegates at the inaugural Fórsa Civil Service Divisional conference were welcomed into the hall by a sea of green ribbons in support of See Change's 'green ribbon campaign,' which kicked off this month.

See Change is a group of organisations working together through the National Stigma Reduction Partnership to bring about positive change in public attitudes and behaviour towards people with mental health problems.

Their aim is to help facilitate a cultural shift in the workplace so that employers and employees feel supported and secure in discussing mental health. The campaign, which runs for the month of May, will see more than 500,000 ribbons disseminated nationwide, encouraging conversations about mental health.

Recent studies show that one in four employees may experience mental health difficulties at some time. But, sadly, there is still a stigma associated with mental health issues.

People affected by struggles with mental health can be very reluctant to disclose their difficulties or seek help in the workplace for fear of stigma and discrimination. See Change wants to tackle this head-on, by getting people talking about mental health, reducing stigma one conversation at a time.

The issue of mental health and wellbeing was at the forefront of many members' minds at last month's Civil Service conference. The green ribbons atop each seat sparked numerous encouraging conversations, and delegates sported them with pride.

Civil Service Divisional Executive committee member, Daniel Copperthwaite received rapturous applause when he took to the floor to discuss a motion on the matter, speaking passionately and bravely about his own experience.

Fórsa fully supports See Change in its work to end the stigma associated with mental health. Green ribbons will soon be available in all Fórsa buildings in support of the green ribbon campaign. Wear yours with pride.

For more information on the campaign, and to see how you can get involved, please click here.