Fórsa members' news bulletin
Services and Enterprises
Friday 7th May 2021
Fórsa seeks global vaccine action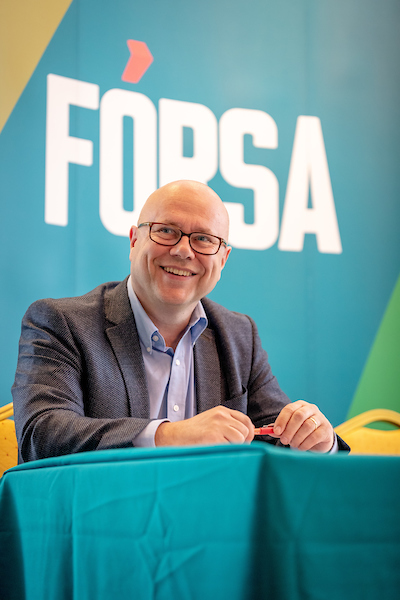 In his letter, Kevin called on the MEPs to use their platform in the European Parliament to support the proposed waiver as the removal of barriers to "ensure that the entire world, including Europe, can get the virus under control and stay ahead of new variants."
Fórsa general secretary Kevin Callinan has written to Irish MEPs to seek their support in getting life-saving Covid-19 vaccines to struggling countries in the developing world.
The union has backed an international campaign to temporarily halt corporation-owned intellectual property rights from blocking the production of life-saving medical supplies across the globe. The US Government yesterday (6th May) indicated that it would support this approach, but the EU has yet to follow suit.
The proposed 'trade-related aspects of intellectual property rights (TRIPS)' waiver would allow the rapid upscaling of vaccine manufacturing by developing countries, which can't do so at present because corporations own the rights.
The current second wave of Covid-19 ravaging the global south has seen record numbers of cases and deaths being recorded in recent weeks.
"Billions of people are sick, dying, bereaved or at risk due to the lack of vaccine coverage," said Kevin.
"The rapid upscaling of vaccine manufacturing, among other crucial medical supplies, is imperative to effectively respond to the outbreaks, so that they can be made available promptly, in sufficient quantities, and at affordable prices to meet global demand," he added.
Reports show several instances where intellectual rights have hindered the timely provision of live-saving supplies. The urgency of the situation is also amplified by the fact that many badly-hit countries such as India have not been predicted to have reached the peak of cases yet.
Fórsa, which represents over 80,000 workers in Ireland, including 30,000 healthcare workers, who like other frontline workers around the world, have been working tirelessly in response to the pandemic, has pledged its full support in the campaign for this landmark proposal.
In his letter, Kevin called on the MEPs to use their platform in the European Parliament to support the proposed waiver as the removal of barriers to "ensure that the entire world, including Europe, can get the virus under control and stay ahead of new variants."
"There is a chance to respond to the urgent call for global solidarity," said Kevin, who added that the Covid-19 crisis could be confined by sharing the advancements in European technology and know-how with the countries that need it most.
Meanwhile, Fórsa senior vice-president Martin Walsh formed part of team made up of Minister for Health Stephen Donnelly, Minister for Housing Darragh O'Brien, and Minister for Foreign Affairs Simon Coveney, along with the HSE and a number of other State agencies that worked closely to send emergency medical supplies to India to help deal with the worsening crisis there.
Ireland last week sent some 700 oxygen concentrators and 365 ventilators as part of an emergency donation, after it was reported that there was an acute shortage of oxygen and ventilation equipment in the hospitals there.
Read Kevin Callinan's letter to MEPs HERE.