Fórsa members' news bulletin
Civil Service
Friday 15th October 2021
Workers rank public service as attractive employer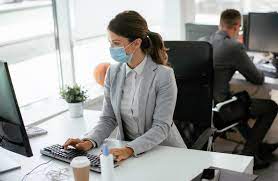 But the civil service and HSE rose in the rankings and are now placed second and fourth respectively.
Public sector jobs have edged ahead of most private sector companies as employees' top choice for 2021. That's according to the 'most attractive employers index,' released by Universum, which surveyed over 11,000 professionals employed across 48 industries.
The survey found a fall in favourability for tech giants like Facebook, Amazon and Apple, though Google maintained its top position as the employer of choice.
But the civil service and HSE rose in the rankings and are now placed second and fourth respectively.
The Department of Education, HSE and civil service took the top three spots for professionals in the humanities and social sciences fields, with Google trailing in fourth.
The HSE remained the top choice for health professionals, with Pfizer in second spot. That company featured quite prominently across as an employer of choice in this year's lists due to the pandemic's effects.
The survey also found the top criteria for selecting an employer were competitive base salary, secure employment and work-life balance, in that order.
A gender-wise breakdown showed women most valued secure employment and better work-life balance, while men were more influenced by the competitive base salary on offer.
Steve Ward, UK and Ireland director for Universum said: "For employers who are striving to improve the gender balance in their workforce, it is important that they understand the varying motivations of both cohorts."
While a shift toward public bodies and domestic employers can be seen in this year's index, the report's authors warn of a drastic reshuffle of the current situation in the coming months, with more than half of Irish professionals surveyed reporting to be on the look-out for a new job.
Ward also said he believed the rise in rank of public service and domestic bodies could be attributed to the pandemic, in particular the "proactive role" many played in supporting the community during the last 18 months.
The full ranking of employers for 2021 can be found here.