Fórsa members' news bulletin
Local Authorities
Friday 17th September 2021
Gradual return to workplaces expected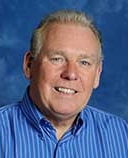 Dessie said employers and unions in the sector had a mutual understanding that workplace return must take place slowly and carefully.
Fórsa is engaging with local government employers on a wide range of measures ahead of the phased return to workplaces, which is due to commence from next Monday (20th September). The union's head of local government, Dessie Robinson, said the discussions with the Local Government Management Agency (LGMA) has so far been positive.
"We're looking at a gradual and phased return to local government employments taking place by the end of December, with adherence to public health guidelines. There will be no dramatic or sudden changes, and we continue to work toward securing a formalised blended working policy as we emerge" he said.
Dessie said employers and unions in the sector had a mutual understanding that workplace return must take place slowly and carefully. "The health and safety of our members remains our priority," he said.
Official guidance to employers, which was published earlier this month, stressed the need for a "cautious and careful" approach and a gradual return to workplace attendance.
It underlined the requirement for employers to consult with staff and worker safety representatives in advance of the September 20th commencement of the return to workplaces, and emphasised the need for employers to take account of a revised Work Safely Protocol and related health and safety checklists.
It also strongly advises the use of staggered arrangements like "non-fulltime attendance and flexible working hours," and reminds employers that workplace attendance is only advised for "specific business requirements."
The revised workplace safety protocol continues to stress the requirement for staff to work from home as much as possible in the period between 20th September and the proposed removal of most public health restrictions from 22nd October.
Fórsa has repeatedly said that workplace safety and continued efforts to contain the virus must be the number one priority during and after the phased return. The union has pointed out that the safety protocol obliges all employers to liaise with worker representative and safety representatives on issues relating to pandemic health and safety protections.
From then the requirement to work from home will be removed, allowing a return to physical attendance in workplaces "on a phased and cautious basis appropriate to each sector."
Fórsa branches have been advised to seek assistance from the union if their local management moves to impose unacceptable arrangements during the phased return to the workplace.
Read the official guidance HERE.
Read about the revised workplace safety protocol HERE.
Read the Health and Safety Authority (HSA) checklists HERE.
It's never been more important – or easier – to get the protections and benefits of union membership. Join Fórsa HERE or contact us HERE.