Fórsa members' news bulletin

Services and Enterprises
Wednesday 1st May 2019
CE supervisors to meet minister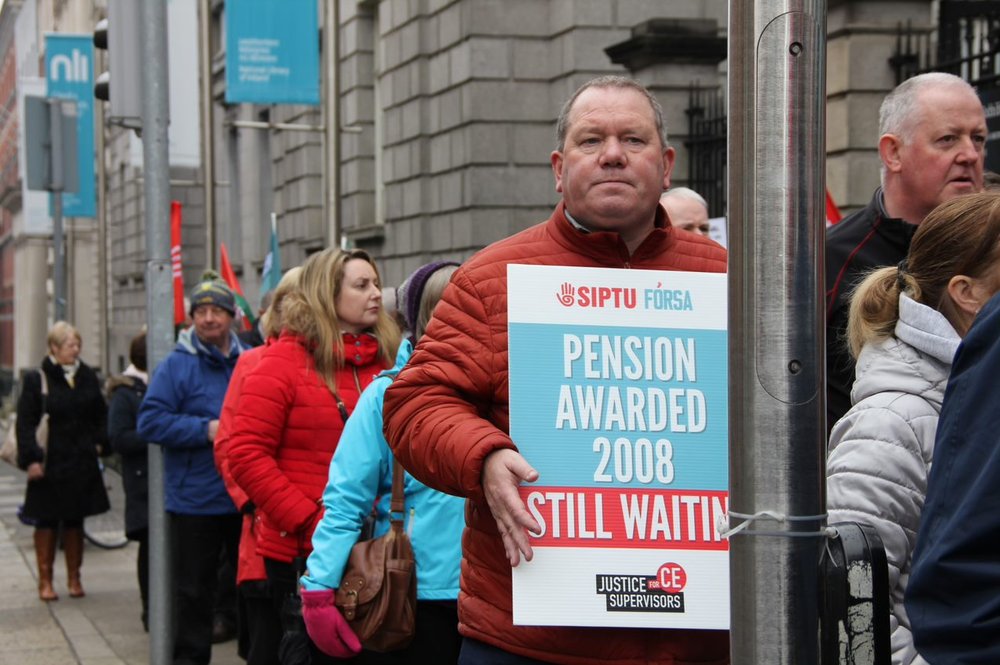 CE Supervisors protesting outside Leinster House.
Trade union representatives from Fórsa and SIPTU will meet social protection minister Regina Doherty tomorrow (Thursday) as Forsa's CE Supervisors branch continues its preparations for five days of strike action from Monday 13th May.

The meeting was initially arranged to discuss the union's concerns over non-compliance with an enhanced redundancy agreement for CE supervisors. But it's since been confirmed that the meeting will include some discussion about pensions, the issue behind the proposed industrial action.

Angela Kirk of Fórsa's Services and Enterprises Division gave a cautious welcome to the change. "We don't expect all the issues to be resolved at tomorrow's meeting, but the opportunity to have discussions with the minister on both issues is a welcome development," she said.

A disputes committee, which includes representatives from both unions, met yesterday to finalise arrangements for the industrial action.

Fórsa official Brendan O'Hanlon said the action would coincide with a series of daily protests by CE supervisors at seven locations around the country. These include Intreo and Revenue offices in Galway and Waterford, and political constituency offices in Dublin, Donegal, Galway, Cork, Portlaoise and Limerick.

"We'll be arranging protests in these locations on each day of strike action and we'll be taking the opportunity to canvas the public to support our campaign of action in the run up to the local and European elections on 24th May," he said.

The 1,250 staff concerned have no access to any occupational pension scheme, despite a 2008 Labour Court recommendation in their favour. A one-day strike by CE supervisors and assistant supervisors took place in February.

Unions have said the action can be averted if the Minister for Finance, Paschal Donohoe, agrees to meet to discuss the implementation of the 2008 Labour Court recommendation.

The Court said an agreed pension scheme should be introduced and adequately funded by the recognised funding agency. Unions have said this responsibility falls upon the Government.