Fórsa members' news bulletin
Health and Welfare
Friday 17th September 2021
Fórsa launches skills academy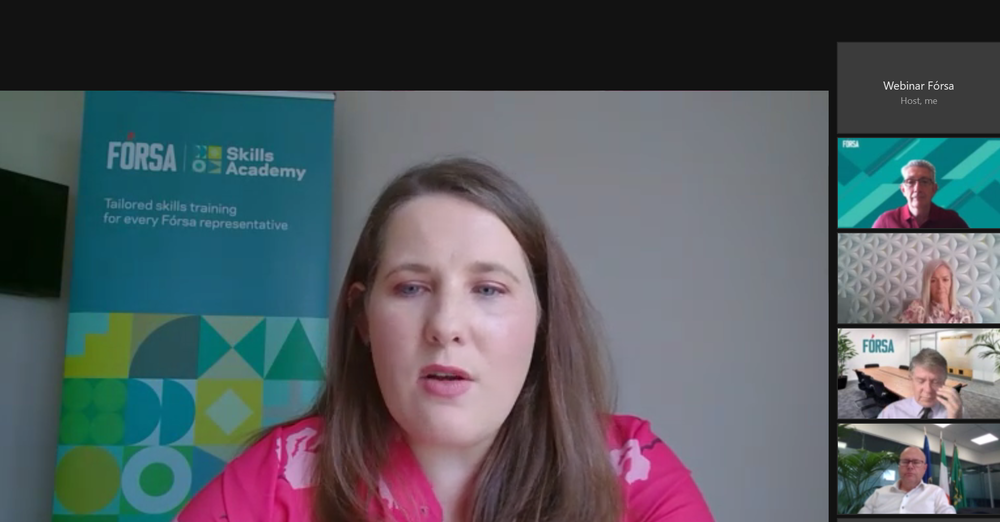 Speaking at the launch Fórsa's director of training and development Linda Kelly described the academy as "a new era, supporting all of our incredible workplace representatives."
The new home for all of Fórsa's training and development initiatives was launched yesterday (16th September). The Fórsa Skills Academy will offer a wide range of introductory, expanded and advanced training designed for the union's workplace representatives and branch activists. You can read more about the range of courses HERE.
Speaking at the launch Fórsa's director of training and development Linda Kelly described the academy as "a new era, supporting all of our incredible workplace representatives."
Fórsa activist and local government chair Julie Flood spoke passionately and encouragingly about her experience with the union's training offering.
Fórsa general secretary Kevin Callinan, deputy general secretary Eoin Ronayne and president Michael Smyth also welcomed the new venture.
Details of the first introductory course – Fórsa 101 – have been circulated to branches, and we have invited expressions of interest. This is a half-day online course on the union and how it works, with a focus on the role of Fórsa workplace representatives.
Members who are interested in attending should discuss their application with their branch training officer or branch secretary and the Fórsa official assigned to their branch.
Full details of how to apply are available HERE.
For further information contact Judith Coffey 021-425-5221 or at skillsacademy@forsa.ie.
It's never been more important – or easier – to get the protections and benefits of union membership. Join Fórsa HERE or contact us HERE.