Fórsa members' news bulletin
Local Authorities
Friday 28th October 2022
'Keep Water Public' campaign seeks referendum date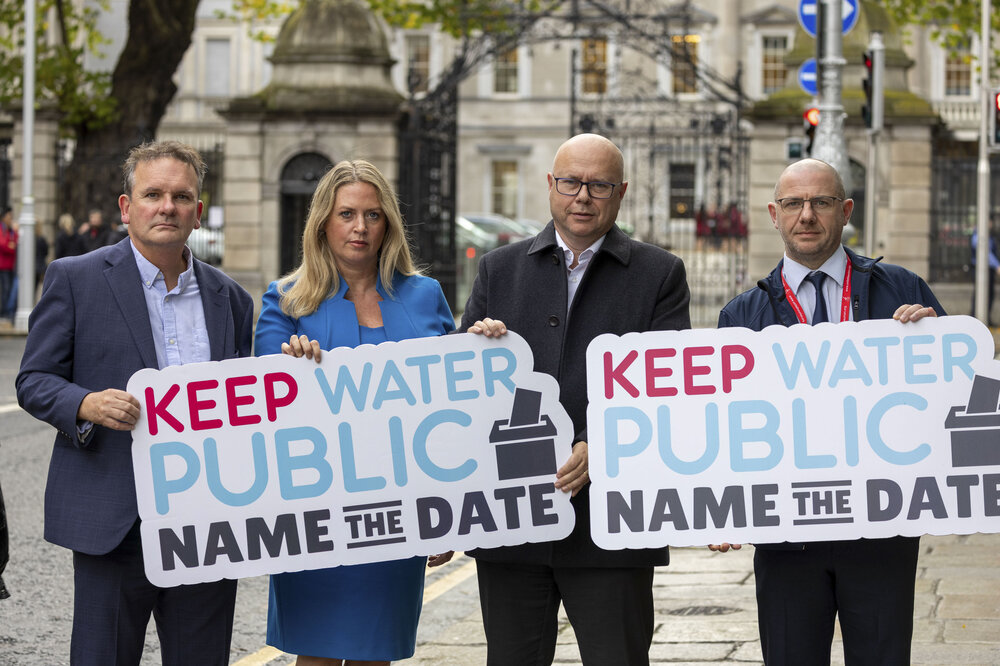 Speaking at yesterday's campaign launch, ICTU president and Fórsa general secretary, Kevin Callinan, said the campaign to name the date for a referendum represented a shared commitment by trade unions to ensure the future of public ownership of water service
Fórsa is one of the unions that has formed the coalition behind the 'Keep Water Public' campaign. Launched yesterday (Thursday), the campaign calls on the Government to confirm a date for a constitutional referendum on the public ownership of water services. The campaign is supported by Fórsa, SIPTU, Unite, Connect and the Irish Congress of Trade Unions.
Speaking at yesterday's campaign launch, ICTU president and Fórsa general secretary, Kevin Callinan, said the campaign to name the date for a referendum represented a shared commitment by trade unions to ensure the future of public ownership of water services: "It's time now to end any lingering uncertainty about the future of water services in Ireland. A referendum would give people the opportunity to have their say, in addition to providing us all with a unique opportunity to safeguard public ownership of water for future generations.
"In that sense, there should be no further hesitation, and we are urging the Government now to name the date. In doing so, it would be taking a welcome and positive step," he said.
Assistant general secretary Catherine Keogh, who has been working closely with Fórsa members in local authorities providing water services, has said the feeling among members is very strong: "They want the Government to name the date for a referendum, to clearly indicate when we can expect to cast a vote to protect the future of our water services. That feeling is universal, so I expect we'll see strong support for this campaign," she said.
Fórsa's head of Local Government Richy Carrothers said the unions had come together to maximise participation in the campaign by union members: "Privatised water services result in higher costs and poorer services for the public. Public ownership of water services ensures safe and sustainable access to water for everyone.
"A referendum would help protect Irish water services from any future attempt at privatisation, providing a constitutional guarantee of public ownership. Opinion polls show that a huge majority of the Irish public want a referendum to ensure water services can never be privatised.
"We're inviting all union branches and members to take part in this campaign by signing the petition and talking to their local political representatives about naming a date for this important referendum.
"This is the kind of grassroots campaign that unions excel at, and I'm confident that Fórsa members will seize the opportunity to get this message across to the Government parties," he said.
You can sign the petition here and Fórsa members are encouraged to circulate the link among work colleagues, friends and family to seek their support for the campaign.