Fórsa members' news bulletin
Health & Welfare
Thursday 7th November 2019
Health branch helps homeless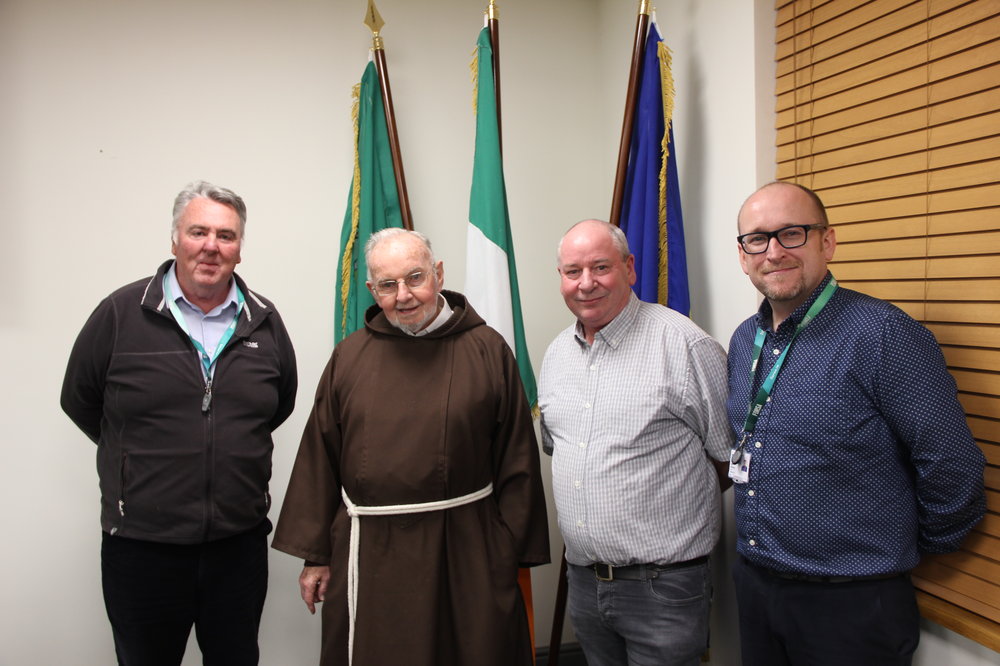 Pictured L-R: Michael Davis, branch Vice-Chair; Brother Kevin Crowley; Tony Stafford, branch executive; Ryan McKinney, Fórsa Assistant General Secretary
Fórsa's Dublin North Health and Welfare branch has donated €10,000 to the Capuchin day centre for homeless people. Founded by Brother Kevin Crowley 50 years ago this year, the facility in Dublin 7 provides over 1,000 meals a day, with priority given to rough sleepers.
It also offers medical, optical and chiropody services, and supplies practical resources like nappies, baby food and shower facilities. Users can also avail of advice and information clinics.
At the presentation ceremony, Tony Stafford from the branch executive spoke candidly about why they chose to support the Capuchin day centre. Having briefly experienced homelessness himself, he said that there is such faith in Brother Kevin's service and dedication within the community that he knows the funds will be best allocated by him.
Tony also emphasized the need to declare a housing and homeless emergency.
"Our branch has over 2,500 members and as we're health and welfare orientated, it's important for us to stand together, along with others, to make the government recognise this for the crisis it is," he said.
Brother Kevin thanked the branch. "We operate on a 'don't dig and don't ask questions' basis. Love, dignity and respect for people in need is at the very core of what we do and this generous donation will enable us to continue that as we face into the harsh winter months," he said.
Fórsa is a member of the National Homeless and Housing Coalition and supports the Irish Congress of Trade Union's charter for housing rights.