Fórsa members' news bulletin
Civil Service
Friday 16th July 2021
State action needed on artificial intelligence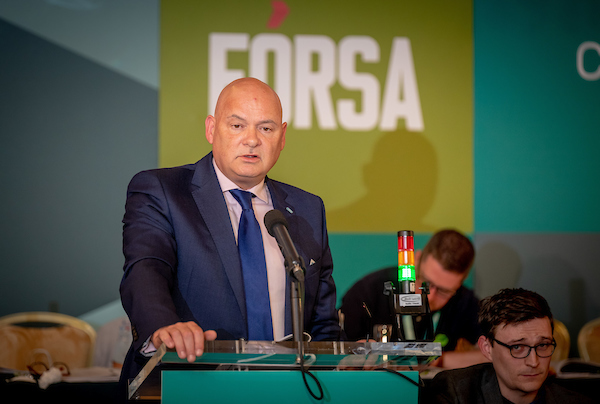 Fórsa's head of civil service Derek Mullen, who penned the paper, said the union would not oppose the introduction of new technologies like AI, but added that technological advancement should not undermine services or jobs
Fórsa has warned that strong State measures will be required to ensure that everyone shares in the potential benefits of artificial intelligence (AI) and other new technologies.
The warning came after Micheál Martin this week said AI was not a threat to jobs. An Taoiseach was launching Ireland's first National Artificial Intelligence Strategy, which estimates that AI could double economic growth by 2035, while creating more jobs than are lost.
A 2019 Fórsa report on automation made the case for dialogue, consultation and agreement with unions when employers sought to introduce major new technologies.
Fórsa's report, Acting On Automation, also highlighted the need for training and skills development for workers under threat of 'job displacement' as AI becomes more embedded in the economy. It also warned that the introduction of AI should not be used as cover for outsourcing.
The report said AI had the potential to improve work-life balance by reducing working time. This would help ensure that the productivity benefits of new technologies are shared between businesses and their staff.
In a survey of Fórsa officials, its author Craig Whelan found that almost two-thirds saw automation as an issue in the workplaces they represent. Over 40% believed their members performed tasks likely to be impacted by automation, while over 80% judged it would definitely or probably will be an issue in the future.
In the same year, a Fórsa submission to the Department of Public Expenditure and Reform said civil and public service management should work with unions to ensure that the introduction of new technologies did not lead to job losses, outsourcing or poorer services.
Fórsa's head of civil service Derek Mullen, who penned the paper, said the union would not oppose the introduction of new technologies like AI, but added that technological advancement should not undermine services or jobs. He pointed to the experience of Revenue, where new forms of work organisation, supported by retraining, had increased the tax-take and improved audit and fraud control rather than cutting jobs.
The national AI strategy seeks to position the public service as a leader on the issue.