Fórsa members' news bulletin
Civil Service
Thursday 5th July 2018
Roscommon industrial action suspended
Fórsa satisfied of 'clear route' to full flexi-leave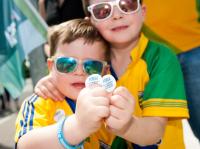 Supporters at the Fórsa rally in Roscommon on 23rd June
Workers at the council took part in a fourth one-day stoppage on Tuesday (3rd July) this week. Strike action scheduled for today (Thursday) has now been suspended.
Peter Nolan, head of Fórsa's Local Government and Services division, said: "Based on the documents received from the WRC and the oversight group, we're satisfied there's a clear route to the full availability of flexi-leave for our members."
The WRC document recommends that both parties agree that all staff at the council are allowed to generate flexitime/flexileave, and that council management would have to be satisfied that there is sufficient, productive work to enable the generation of flexitime/flexileave.
The document also recommends that Roscommon County Council will facilitate the taking of leave subject to ordinary business needs.
The union is to attend the WRC today to finalise the details.