Fórsa members' news bulletin
Services & Enterprises
Tuesday 24th April 2018
Third terminal would be blow to regional development
Extra Dublin airport terminal would concentrate development in 'overheating' area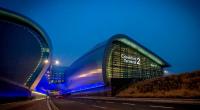 "If the Government really wants to attract jobs to our regions, it must develop and implement an aviation policy capable of better distributing passenger traffic to all regions" - Joe Buckley, IAESA (Irish Aviation Executive Staff Association) branch
Opening a third terminal at Dublin airport would further concentrate tourism and economic development in the overheating greater Dublin area, damaging prospects for balanced regional development, according to Fórsa.
Delegates to the union's Services and Enterprises conference, held in Galway earlier in April, heard that 95% of passenger growth between 2012 and 2017 went to the capital, which now accounts for over 85% of passenger traffic in and out of Irish airports.
A department of transport-commissioned review of airport capacity, which is being conducted by UK consultants Oxford Economics and Cambridge Economic Policy Associates, is expected to report soon.
The Fórsa conference backed a motion [Motion7] that condemned the failure of successive governments to develop a regional aviation policy, and called on the Irish Congress of Trade Unions to press the Government for a regional approach to aviation development.
Joe Buckley of Fórsa's IAESA (Irish Aviation Executive Staff Association) branch said less than 15% of Ireland's passenger traffic was shared between Shannon, Cork, Kerry, Knock and Donegal airports. He said research by the Economic and Social Research Institute (ESRI) had found that access to airports is crucial to high-tech foreign direct investment and knowledge-intensive firms, as well as inbound tourism.
Regional access
"If the Government really wants to attract jobs to our regions, it must develop and implement an aviation policy capable of better distributing passenger traffic to all regions. The lack of a strong focus on regional access is hampering the development of rural jobs and the Irish economy, particularly in tourism and foreign direct investment. A regional aviation policy should be the cornerstone of Government policy on order to achieve the objectives of its tourism, jobs, planning and rural action programmes," he said.
Fórsa assistant general secretary Johnny Fox singled out Shannon airport, saying it was operating far below capacity. "Shannon is struggling to achieve growth. It has capacity to cater for 4.5 million passengers a year, but only 1.75 million go through its departure gates. The last thing we need is a third Dublin terminal when Shannon, Cork and other regional airports – which should be driving balanced regional economic development – are themselves struggling to survive," he said.
The conference also opposed further privatisation of Irish airports. A motion from the Fórsa IAESA branch cited the transport department's capacity review and the potential break-up of Irish Aviation Authority functions as potential enablers of public asset sell-offs in the sector.