Fórsa members' news bulletin
Education
Tuesday 24th April 2018
New union, better benefits
Fórsa members can save lots of money with our enhanced package of financial benefits provided or negotiated by the union.
Some of these are free to all Fórsa members.
Others are optional benefits, available only to Fórsa members, which can mean savings on insurance, salary protection, additional pension coverage and more.
Fórsa members can save lots of money with our enhanced package of financial benefits provided or negotiated by the union. Some of these are free to all Fórsa members. Others are optional benefits, available only to Fórsa members, which can mean savings on insurance, salary protection, additional pension coverage and more.

Fórsa members are entitled to*
€5,000 personal accident cover
€5,000 critical illness or death benefit
Spouses covered for death benefit too
€5,000 illness benefit if you're out of work for more than 12 months
Evacuation or repatriation expenses up to €250,000 for members deceased, seriously injured or ill abroad
Free Fórsa helplines
24 hours a day, 7 days a week, 365 days a year
Free legal help in bodily injury cases 1850-77-66-44
Free 24/7 legal advice helpline 1850-77-66-44
Free 24/7 confidential counselling helpline 1850-77-66-55
Free 24/7 domestic assistance helpline 1850-77-66-44
Fórsa members can opt into Fórsa-facilitated financial benefits
Car insurance
Home insurance
Travel insurance
Additional pension benefits
Salary protection and life cover.
* Terms, conditions and some restrictions apply.
Get application forms and terms and conditions
HERE
.

Action on new entrants must be fast-tracked
Fórsa has called on the Government to allocate funds in October's Budget to begin shortening pay scales for public service 'new entrants' next year. This would be earlier than originally envisaged in the current public sector pay deal, the Public Service Stability Agreement (PSSA).
Fórsa has called on the Government to allocate funds in October's Budget to begin shortening pay scales for public service 'new entrants' next year. This would be earlier than originally envisaged in the current public sector pay deal, the Public Service Stability Agreement (PSSA).
Speaking at the union's Civil Service Division conference in Killarney last week, Fórsa joint general secretary Tom Geraghty accepted that no money was budgeted to resolve the injustice in 2018.
"While it is correct to say that no monies have been allocated to do this in 2018, I believe that Ireland's strengthening economic and exchequer recovery means it should be possible to start funding it next year, rather than delaying until 2020 or beyond. That would require funds to be allocated in October's Budget," he said.
Tom and other officers of ICTU's Public Services Committee will meet senior Department of Public Expenditure and Reform (DPER) officials to discuss the matter on Friday (27th April). The talks are taking place under the PSSA agreement, negotiated last summer, which allows for an "examination" of the new entrants' pay issue.
Friday's meeting is likely to be the first of a series of engagements dealing with the practicalities of equalising the length of pay scales. The Government has not conceded Fórsa's call for some money to change hands next year, despite recent media reports that pay adjustments may be "on the way" for new entrants.
The union has also cautioned that media reports of payments averaging €3,300 a year are overblown, as this figure includes employer costs – like employers' PRSI payments – which do not appear in pay packets.
The term 'new entrants' refers to those employed in the civil and public service since January 2011. Their pay scales are currently two points longer than those of other staff, which means it takes them two years longer to get to the top of their pay scale.
Negotiators must confront the technical challenges presented by the fact that the length of pay scales varies widely across the civil and public service. Unions also want to ensure that any solution is fair to all new entrants, regardless of how long they have been employed.
Tom said pay equity was a priority for all trade unions, which had addressed the inequity in various national pay talks. "Every bit of progress in addressing this injustice has been achieved by unions collectively, through national pay negotiations and public service pay agreements," he said.
School secretaries deliver strong message to Bruton
Branch seeks direct talks with Minister on inequalities
Fórsa's school secretaries have taken their concerns about pay inequality directly to the Minister for Education & Skills, Richard Bruton.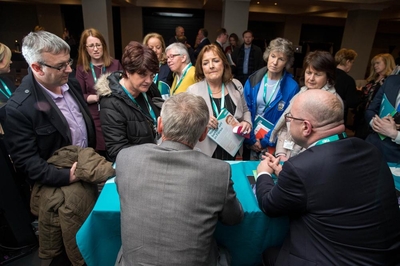 Fórsa's school secretaries have taken their concerns about pay inequality directly to the Minister for Education & Skills, Richard Bruton.
Committee members of the School Secretaries branch took the opportunity to engage with the minister in person when he attended Fórsa's conference event in Dublin in early April (pictured).
Branch chairperson Maria Dunne followed up their conversation with a letter to Minister Bruton the following day.
The letter outlined the continuing difficulties faced by school secretaries, who are not employed by the Department of Education & Skills, but by individual schools boards of management.
Maria explained that this arrangement, which has been in place since the early 1980s, has led to a "myriad of variances in pay and conditions for all."
Maria wrote: "The Department of Education has long abdicated responsibility for school secretaries throughout the country."
The letter places strong emphasis on the fact that school secretaries receive no sick leave pay or pension.
Maria added that many school secretaries have had to fight for the 2.5% increase awarded by the WRC in 2015 on an annual basis. She said that some have never received this pay increase.
Precarious employment
The letter states: "Our position is one of precarious employment. Many school secretaries have to apply for social welfare for the duration of school holidays. How demoralising! So yes, 'the boot is now pinching' and has been for many years.
"We have had enough of being dismissed. We are entitled to the same "policies and relationships toward wellness" you eloquently spoke about yesterday.
"The school secretary is involved in the very 'hub and fabric' of the school environment. We too are stakeholders. It is time to be recognised as such.
"We have approached successive Ministers for Education over the years at each conference they attend. We have been afforded the same courtesy shown to us yesterday by you, Mr. Bruton but we have seen little change in the 'two tier' system that continues to apply. We call on you to be the first Minister for Education to make a difference to our entitlement to equality and dignity in our workplaces," it said.
Determination
Fórsa assistant general secretary Barry Cunningham said the letter expressed both the determination and frustration of school secretaries, who have been seeking a resolution to the issue for more than a decade. "Devolving power over pay to individual schools reduces transparency and gives rise to unfair and erratic pay systems where non-teaching staff are treated as second-class citizens.
"Our members are seeking the intervention of a minister who can tackle this issue once and for all," he said.
The branch has received an acknowledgement from the minister's private secretary. Maria said, "We will continue to apply pressure to get a meeting with the minister. Our determination to resolve this is absolute, if Minister Bruton fails to resolve it, all the political parties can expect this to be an issue for us at the next general election."
SNA contract issues
Displacement: Are You Doing Someone Else's Job?
Displacement is essentially doing the job of another person. Sean Carabini offers advice to SNAs on how to approach the problem.
It's not always clear what is and what is not part of an SNA's job. While the SNA contract
and circular 30 of 2014
gives a lot of guidance, there are still some 'grey' areas.
There are different ways of deciding what to do if you are asked to carry out a task that is not included in the contract or the circular. One way you can look at it is to ask if it would cause 'displacement'.
Displacement is, basically, when you are doing the job of another person. If you feel that a task you are being asked to do falls under the remit of another job it shouldn't be carried out without at least seeking guidance from your local reps.
There are many different roles and jobs within a school community. The teacher has a specific job, the principal has a specific job, the school secretary has a specific job and a caretaker has a specific job. We need to make sure that we do not carry out any tasks that impinge on their roles.
But what if there is nobody else to do it?
This does not really matter, it still shouldn't be done because if we do it then the school will have no need to hire the right person for the job.
As part of the professionalisation of the SNA role, we need to be clearer about what tasks we are and are not prepared to carry out. Refusing to do a task that is in your job description will probably end up in disciplinary action. However, refusing to do a task that is part of someone else's job will not.
As the SNA grade becomes more professionalised, the role will become more defined. In the meantime, if in doubt about a task, consider if doing it would 'displace' someone else's job and if you think it might, contact your local rep.

If you have a query, please contact your local representative in the first instance or if you do not know who your local rep is please contact Susan on 01 817 1524.
A "small move forward" for Early Years
Minister's call for investment and CPD initiative backed by Fórsa
Fórsa's Early Education branch has welcomed the recent focus on support for the future of the Early Years sector by Minister for Children and Youth Affairs, Katherine Zappone.
Fórsa's Early Education branch has welcomed the recent focus on support for the future of the Early Years sector by Minister for Children and Youth Affairs, Katherine Zappone.
In early April the minister called for further investment following a surge in the number of childcare providers seeking capital grant support to build or extend premises, following the extension of the free pre-school year.
Ms Zappone said: "While investment in the past three years is up 80 per cent to €485 million this year, we are still significantly short of the European average and Irish families are still struggling to meet the cost of childcare."
Fórsa's Early Education organiser Katie Morgan said the union has been lobbying the government for increased public investment in early education. "We have members working in the sector who are directly affected by the costs of trying to improve their facilities for their staff and the children they care for, so we welcome the minister's calls for further investment.
"The minister describes it, correctly, as a dynamic sector, and she recognises that capital investment means greater accessibility," she said.
Fórsa Early Years Executive member, Mick Kenny, said increased investment in capital grants is vital. "Short-changing services is essentially short-changing parents. Services face further financial instability if they choose to borrow money to build on or improve the services or quality of the building," he said.
CPD - continuing professional development
The Early Education branch has also welcomed the minister's more recent announcement of a new CPD initiative. The initiative has an initial investment of €3 million, and will include a bursary to help cover the costs of staff members availing of development training.
Katie explained: "We have members who cannot currently attend CPD courses due to either the cost entailed, the loss of wages or the lack of cover. Early years workers will benefit from this pilot. We hope the pilot will be as accessible as possible."
A formal announcement of details of the CPD initiative is expected in the coming weeks.
Katie said both announcements represent a small move forward for the Early Years sector. "These small changes are a step in the right direction for our members working in early years, but there is a long way to go. We are aware that the Department of Children and Youth Affairs is looking at the future of childcare as part of a comprehensive early-years strategy, which is due to be launched in the autumn.
"That strategy, and its provisions, will be crucial to our members. The professionalisation of the early years workforce in Ireland, and improved investment for wage growth, need to be part of the strategy," Katie said.
14,000 carers to benefit from free GP care
The Department of Health is to draft legislation to allow 14,000 carers to benefit from free GP care.
The Department of Health is to draft legislation to allow 14,000 carers to benefit from free GP care. The legislation is to provide in law for eligibility for GP services without charge to be extended to all those in receipt of Carer's Allowance or Carer's Benefit.
Announcing that he had received Cabinet approval to draft the legislation earlier this month, Minister for Health Simon Harris said, "This Government recognises the need for further supports for those who are caring for the most vulnerable in our society.
"This measure will enable people who are in receipt of full, or half-rate, Carer's Allowance or Carer's Benefit to qualify automatically for GP care without fees. Carers willingly give up a great deal to provide care to family members and others, and I hope that this concrete support from the State for their mental and physical wellbeing will help alleviate some of the strain," he said.
Government plans to provide free GP visit cards, and additional spending on respite care, were announced last December.
The measures were welcomed by Family Carers Ireland. However, the family carers advocacy organisation said that, as only one in four carers actually receive Carer's Allowance - mainly due to the means test - the group has called for all carers in receipt of the Carer's Support Grant to receive the card, extending the service to 25,000 additional carers.
Further supports and information for carers are available from the HSE here.
Family Carers Ireland website.


Fórsa audio bulletin episode 6
A special episode focusing on Fórsa's first ever services and enterprises and civil service divisional conferences. Starting with the services and enterprises division on the 12th and 13th of April and then the civil service division on the 18th and 19th we cover some of the main motions discussed over the four days. Presented by Hazel Gavigan and Diarmaid Mac A Bhaird.
Youth Committee events news
Forsa's Youth Committee has not one, but two events coming up, kicking off with the next meeting of the committee this coming Thursday (26th April) from 2pm to 4pm at Nerney's Court. The meeting is preceded by training for members of the committee from 11am.
Fórsa lead organiser Joe O'Connor is actively encouraging Fórsa members, aged 35 or under, to
contact him directly
if you've an interest in joining the committee.
SNA training continues

The four SNA branches continue to roll out training programmes across the country as part of their commitment to providing continuous professional development opportunities to SNA members.
The training covers a broad range of areas including behavioural management, understanding autism, Down Syndrome, Asperger's, pervasive developmental disorder and bipolar disorder. There also training sessions covering stress management, mood watching, understanding circulars and pensions.
South Dublin South Leinster
The South Dublin South Leinster branch trained close to 350 SNAs last year. So far this year 100 SNAs have already received training on Autism from Adam Harris, the founder of
As I Am
, an organisation committed to developing a more inclusive society for the AS community.
The training took place in January (pictured below) and included sessions on understanding circulars from the Department of Education and a discussion about pensions.
The branch is planning to run the training session later this week in Tullamore, County Offaly. The venue is the Bridge House Hotel this Saturday (28th April).
The next training session will take place at the Royal Hotel, Bray on 12th May for SNAs in Wicklow.
The final training session of the term will take place in Kilkenny on Saturday 26th May at the New Park Hotel.
By the end of May, more than 400 SNAs would have received the training provided by Fórsa's South Dublin South Leinster SNA branch.
Contact
me
for more details.
Connaught/Ulster
The Connaught/Ulster Branch delivered eight training sessions during the 2016/2017 school year to roughly 750 members.
During the current school year they've already trained 700, with two more sessions scheduled for May. The Branch is planning to train about 1,000 SNAs by the end of 2018.
The branch will host a training session on managing the emotional and sensory needs of students with SEN in the classroom this coming Saturday (28th) at the Breaffy House Hotel in Castlebar from 09:30 until 15:30.
North Dublin North Leinster
The North Dublin North Leinster have also delivered the same training to 180 SNAs since the beginning of the year, in addition to three circular training sessions covering terms and conditions of employment, contracts, '72 hours' and grievance procedures. A total of 160 SNAs have received this training.
For future training event information please contact organiser
Grace Williams
.
Munster
The Munster SNA branch has commenced a series of information meetings. Kicking off last week in Clonmel, meetings take place on Thursday (26th) in Kerry and in Limerick on 1st May. Contact organiser
Joan McCrohan
for more details.
The Munster Branch of Fórsa will host two training sessions with Adam Harris from
As I Am
. The first is at the Clonmel Park Hotel on Saturday 5th May and the second is at the Charleville Park Hotel on Saturday 26th May.
There is no fee for these sessions but places are limited and must be booked online
HERE
.
Professional institute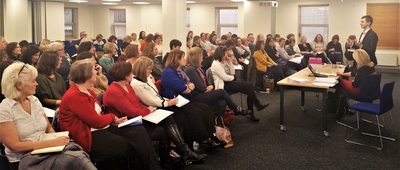 Fórsa's ongoing commitment to training SNA members is further reflected in the union's plans to
establish a professional institute for SNAs
. The initiative was announced at the union's education conference event in early April.
The institute would set professional standards, support training, and underpin the validation of qualifications in a push to improve provision to children with special needs by further professionalising the SNA role.
A recent Fórsa survey of almost 2,700 SNAs revealed that, while most held qualifications significantly above minimum requirements, neither the Department of Education nor individual schools provide them with access to adequate basic or ongoing professional training. Instead, most training in the field is either self-financed or trade union-provided.
BLOG: When the man with a van is his very own man
We used to joke that my younger brother Kevin was from the Dutch side of the family. We were Harbors and he was a Van Driver. Geddit?
Anyway, he drove a van for a living and one day, much to our surprise, Kevin announced that he was now self-employed.
In our late-1980s working class circle, this seemingly entrepreneurial break from the world of employment was as unusual as it was unexpected.
Except it wasn't what it seemed.
What had happened was this. One morning, Kevin's boss told him he was now self-employed. He could rent the van and would do his deliveries as before. Only now he was a contractor, not an employee. And he'd have to sort out his own tax and insurance.
They privatised the buses around the same time. That's another story but, like Kevin's newfound small businessman status, back then it seemed as inexplicable as it was unsettling.
(Contd.)
Sure enough, a short while later the 'contracts' from (though not the van repayments to) Kevin's former boss thinned out. Then they disappeared. No redeployment. No holiday pay. No redundancy. No responsibilities.
Cool platforms
Almost three decades later, as the Ubers, Deliveroos, Amazons and others rushed to explain that they were 'platforms' not employers, I started to hear the term 'gig economy.' I came to realise that my unwitting little brother was among its pioneers but, no matter how cool it might sound now, I was right about that unsettling feeling.
Countless workers who would simply have been employees in previous eras now work as 'contractors' without the protections against sub-minimum wage and unfair dismissal – or benefits like paid holidays and sick leave – that the rest of us take for granted.
Cue teams of legal, trade union and academic experts wrestling with the distinction between employed and contractor status, and the thorny challenge of maintaining employees' rights in situations where – how to put it? – they just ain't employees.
One of those experts, Jeremias Prassl of Magdalen College Oxford, spoke at the prestigious Industrial Relations News conference in Dublin earlier this year. He reckons substantive aspects of laws governing rights at work need to be reviewed to protect workers in the new dispensation.
Confronted with zero-hour arrangements, bogus self-employment, and other new forms of work organisation, Professor Prassl said unions must address the limits of laws on unfair dismissal, minimum wages, and qualifying periods for job protection.
But he says reform of social welfare and taxation policy is as, if not more, important. That's because the so-called gig economy is luring people away from standard employment relationships by offering them a "no income tax" proposition.
Less attractive
Stephen Holst of legal firm McCann Fitzgerald agrees that tax and PRSI reforms "could be the biggest driver of change" in this area. He says at least €60 million a year is lost to the Irish exchequer through the false classification of work as self-employment, which allows companies to avoid paying employers' PRSI.
Holst said these arrangements – including the prospect of lower income tax bills – can look attractive to workers at first. But they are less appealing when you need to fall back on PRSI-related benefits like maternity leave, pensions and social security.
Prassi said there was evidence that the gig economy was causing huge tax losses in other jurisdictions too. And he added that moving workers out of the PAYE system meant they carried all the burden of tax compliance.
Yet this issue could be relatively easy to address because all the data about who works, who for, and for how much, exists on the platforms – like Uber and Deliveroo – that typify the gig economy.
Should those of us in steady employment be concerned? A recent report from the Irish Congress of Trade Unions (ICTU) found that precarious 'gig economy' working arrangements were now spreading, including into the seemingly safe neighbourhoods of public administration, health and education.
Insecure and Uncertain: Precarious Work in the Republic of Ireland and Northern Ireland, revealed that 8% of the Republic's workforce – or over 158,000 people – see significant variations in their weekly or monthly working hours. Another 7% are in temporary employment, often simply because they can't find permanent work.
The union study found that female and young workers are most likely to be stuck in precarious or insecure jobs. And, while uncertain work is most common in distribution, hotels, catering, retail and construction, it's spreading to other areas including the public service.

Alarming
The alarming growth in precarious work since 2008 has prompted ICTU to urge the Government to legislate to address the problem. It wants new laws to guarantee the right to a minimum number of working hours, and to provide workers with a written statement of their terms and conditions from day one of their employment.
Meanwhile, Labour's Ged Nash is to speak at Fórsa's Services and Enterprises Divisional conference about his proposed legislation aimed at strengthening protections for precarious workers. His proposals go further than new laws envisaged by the Government, which would ban zero hour contracts in all situations except emergency cover, short-term relief work, or genuine casual work.
The Congress report says the coalition's approach is insufficient against the background of a dramatic 34% rise in part-time work and self-employment, which it says is "indicative of significant growth in bogus or false self-employment."

Meanwhile, Professor Prassl says unions must avoid "falling into a crazy Luddite trap," and should instead take on the negative aspects of the changing economy while embracing technology and innovation. "Over the centuries, technology has never destroyed the net amount of work, but it has made it better, safer, and more fun," he says.
Unions also face the practical challenge of developing services that gig workers actually want. Things like advice on contracts and intelligence about good and bad 'gig' employers are not standard trade union fare, but they would be a real boost to the Kevins of today.
On the plus side, Prassl makes the rather obvious point that reaching and communicating with gig workers shouldn't be that difficult, After all, they are – they have to be – among the most IT and social media literate people on the planet.
In any case, unions will have to up their game to stay relevant if, as seems likely, the sector keeps growing at its current rate.
This article was first published in Issue No.2 of Fórsa magazine which is available in your workplace now. You can download the magazine here.