Fórsa members' news bulletin
Health & Welfare
Tuesday 10th April 2018
Gearing up for conference charity cycle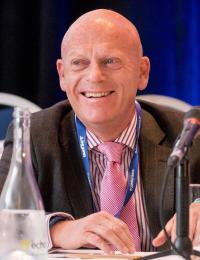 "The cycling event is about having a great time while raising money for smaller local charities that don't have large budgets to back the important work they do. In the past we've helped organisations supporting mental health, suicide prevention, and cancer support" - Head of division Éamonn Donnelly
Dust down that Lycra and dig out the bicycle clips. Because now's the time to sign up for the Fórsa conference cycle and help raise much-needed funds for charity.
The initiative has been organised by Fórsa head of health Éamonn Donnelly and assistant general secretary Dessie Robinson – both formerly of IMPACT – for the last ten years. In that time it's raised €130,000 for small charities based in communities throughout the country.
It involves conference delegates and their supporters cycling some or all of the route between Limerick and the Fórsa national conference in Killarney next month.
Éamonn says it's a fun event. "It's about having a great time while raising money for smaller local charities that don't have large budgets to back the important work they do. In the past we've helped organisations supporting mental health, suicide prevention, and cancer support," he said.
Among the charities the bike-ride will raise money for SOS (suicide or survive), the Dublin-based provider of supports to struggling young people. It will also support charities in Limerick and Kerry – the start and end of the effort.
Reassuringly, Dessie says you don't need to be Tour de France ready to take part. "We want to encourage as many members and branches of the union to take part, whether that means cycling 10km, 20km or even one km, the main thing is to get involved," he says.
Éamonn appealed for branches to get behind members representing them, and help them to raise money and prepare for the event itself. "We are hoping to have representatives from as many branches and divisions as possible and I want to encourage anyone considering taking part to get involved in the event. It's a great day and it's fantastic to be able to raise money for these wonderful charities."
If you want more information – or if you're ready to get involved – contact
bruddle@forsa.ie