Fórsa members' news bulletin
Health & Welfare
Tuesday 6th February 2018
Health and care professions 'neglected'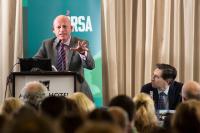 Eamonn Donnelly.
The failure of politicians and health service managers to place the health and social care professions at the centre of service planning will hamper the implementation of the 'Slaintecare' health reform programme, which gained cross-party political support last year, according to Fórsa.
Last week, the head of the union's Health and Welfare division Éamonn Donnelly told a high-level gathering that the country's 18,000 health and social care professionals were neglected in health service planning and delivery. He said 80-90% of final year health profession students were considering emigration as a more attractive option than working in the Irish health service.
The health and social care professions (HSCPs) include speech and language therapists, social care workers, social workers, psychologists, physiotherapists, occupational therapists, dietitians, podiatrists, orthoptists, biochemists and audiologists. The Slaintecare programme envisages a major expansion of primary care and social care capacity, with free access to GP and hospital services within five years.
Fórsa has called for additional investment and recruitment to ease staffing shortages and bring down waiting times, as well as a sustained effort to demonstrate to young therapists, social workers and carers that there is a rewarding professional future for them in the Irish health and social care system.
Éamonn called on health minister Simon Harris, who spoke at the event, to immediately create a departmental post of Senior Advisor on Therapy Services. He told the conference, which was also addressed by senior managers from the HSE, Tusla and the National Federation of Voluntary Bodies, that health and social care professionals should be in leadership positions in the HSE and Department of Health.
"There is a real concern among the professions that their experience and contribution is being side-lined, to the detriment of patients and clients, in yet another new structure that puts all its focus on doctors – be they GPs or consultants – as the managers and epicentre of service delivery," he said.
Fórsa listed a range of actions it says are necessary to realise the full potential of the professions in the delivery of Slaintecare and other health service improvements.
Read the full speech HERE.