Fórsa members' news bulletin
Services and Enterprises
Friday 21st May 2021
Aviation crisis demands Government action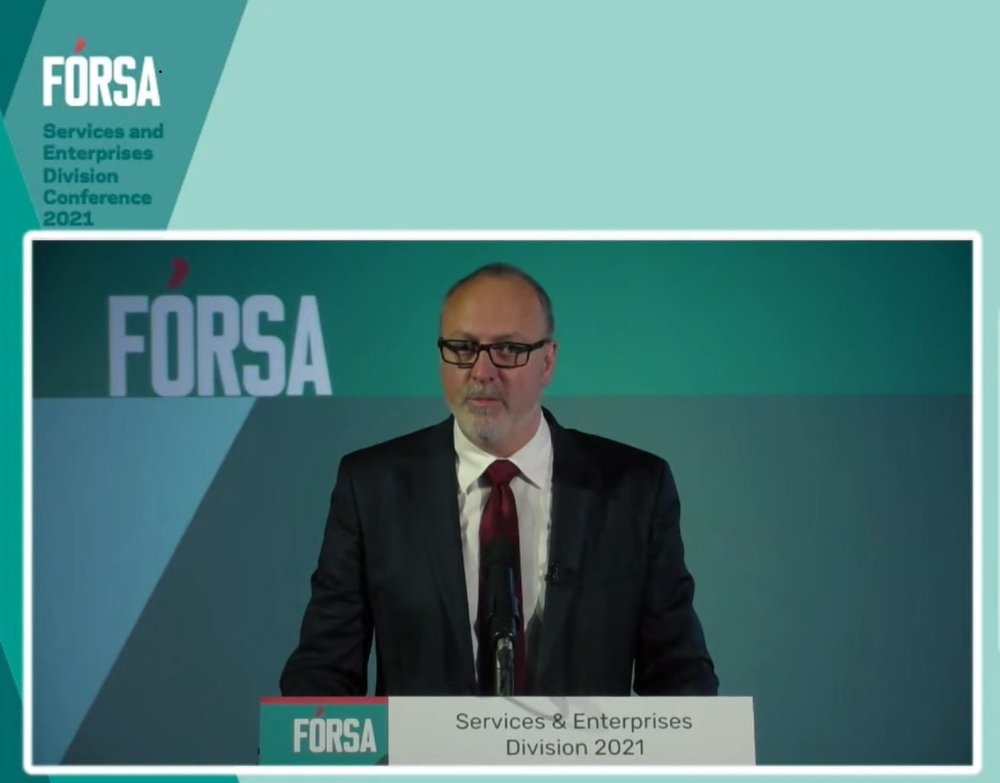 The chair of the division, Niall Mullally, is a senior cabin crew manager with Aer Lingus, and told the conference that his colleagues in aviation have experienced job losses, work practice abuses and severe wage cuts that have left them struggling.
Fórsa raised the prospect of thousands of aviation workers facing a financial cliff edge at its Services and Enterprises divisional conference last week. The union took the opportunity to again call for Government support, in the form of a bespoke aviation income support scheme, to underpin jobs and maintain the relationship between employers and employees in the sector.
The conference took place before Aer Lingus's announcement that it intends to close its Shannon base.
The union's head of services and enterprises, Ashley Connolly, warned that the aviation industry will be the last industry out of the woods in terms of Covid restrictions. She was responding to transport department official Fintan Towey, who addressed the conference.
Ashley said three reports on the impact on the aviation industry had been produced in the last year, and while there was a lot of value in this work, she said the reports are "sitting on shelves and gathering dust." She said it is for the Government to act on their recommendations "as a matter of urgency."
She said the recent Government announcements on the easing of restrictions said virtually nothing about aviation at all: "For most of us, the announcement was about good news and hope. But that glaring omission left thousands of workers in aviation with a sense of dread – not just that their future remains uncertain, but that their situation was barely worth a mention.
"The Government needs to decide if the halt on the industry is to be permanent or temporary. Only the State has the power and resources to preserve Ireland's vital international connectivity – the connectivity that supports thousands of businesses and hundreds of thousands of jobs – over the coming months, and possibly years," she said.
Ashley said aviation workers needed the Government to do better, to provide political leadership and foresight, and a clear roadmap setting out the return to international travel and hope to families waiting for news that they can be reunited with the loved ones living abroad.
She said Fórsa continues to call for an industry-specific approach "capable of maintaining the relationship between employees and employers and to position airlines and others to quickly bounce back once travel restrictions can be eased."
Ashley called on the Government to provide the income supports to protect aviation jobs, offer clear guidance on when and how international travel will be allowed to resume, and re-open the Ireland-UK travel area.
Tardy and timid
Fórsa's general secretary Kevin Callinan told the conference that the Government response to the aviation crisis, which is having an extremely negative effect on the Irish economy as a whole, continues to be "tardy and timid," and told delegates that Fórsa has mobilised members to put pressure on elected representatives. "We've taken every opportunity to lobby for State action to shore up the sector and its staff in the short-term, and to ensure its full recovery in the medium to long-term," he said.
Kevin added that the union has "constantly impressed upon the Government that aviation companies which impose compulsory redundancies, or off-shoring, should not benefit from State aid funded by Irish taxpayers."
The chair of the union's Services and Enterprises division, Niall Mullally, is a senior cabin crew manager with Aer Lingus, and told the conference that his colleagues in aviation have experienced job losses, work practice abuses and severe wage cuts that have left them struggling: "Massive pay cuts and significant layoffs have been more difficult to endure in the total absence of a clear plan from Government to reopen the sector.
"The lack of a coherent plan has left many rightly fearful for their futures. Plans for the Green Digital passport to be rolled out across Europe is welcome, but without a plan from Government hope is mingled with uncertainty.
While we are seeing different sectors reopening, which is encouraging after more than a year of restrictions, there is still no equivalent plan for aviation, an industry that supports hundreds of thousands of jobs in Ireland.
"We need to maintain the focus winning these interventions for aviation, because so many industries, jobs, regions and communities are reliant on a vibrant and functional aviation industry," he said.
The Government is expected to outline a roadmap for aviation and the resumption of international travel next week, while media reports this week show that senior ministers differ on the likelihood of a return to international travel before August.
It's never been more important – or more easy – to get the protections and benefits of union membership. Join Fórsa HERE or contact the union HERE.