Fórsa members' news bulletin
Education

Friday 15th May 2020
Tackling food poverty during a pandemic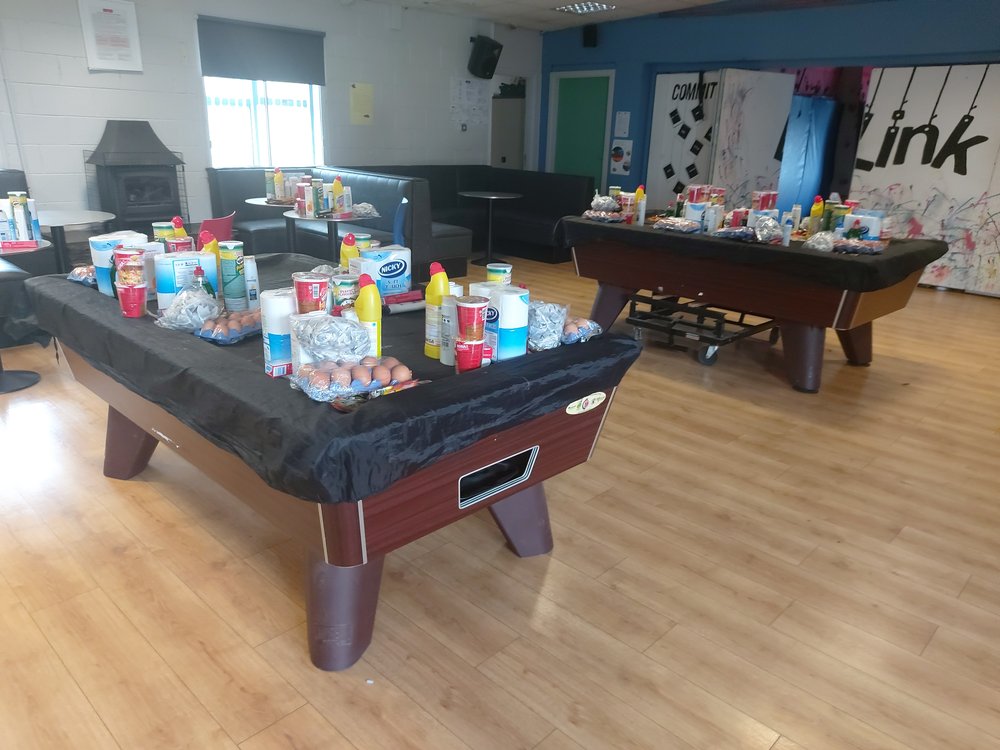 Food parcels are prepared by staff at Ronanstown Youth Services.
A member of Fórsa's Boards and Voluntary Agencies branch has led an initiative that's providing weekly food parcels to 21 extra families during the Covid-19 crisis.
Crosscare youth worker and union activist John O'Hara saw a marked increase in the demand for support since the onset of the virus, and sought donations from Fórsa branches to fund additional aid for families.
Along with Collinstown school completion programme, four Fórsa branches – Boards and Voluntary Agencies, Dublin Care Services, Dublin Hospitals and Youth Justice – chipped in, and Crosscare was in a position to do more as a result.
Now John hopes more Fórsa branches will lend a badly-needed hand.
"I felt we had to do something. There was a significant number of people who needed assistance, and we needed additional funding to allow us help. The union by its nature helps people, so it seemed appropriate," said John.
The coronavirus outbreak virus has negatively impacted nearly half of the employed population, with over 800,000 people are now dependant on State benefits for their income. Many households are struggling to meet basic needs.
"Crosscare provides assistance and food aid to families in need," explained John, who supports young people through the Ronanstown youth service. "We saw a surge in families experiencing unemployment. There was a new demographic struggling to provide the basics," he said.
John said many members of the team that coordinates the collection and delivery of food supports are Fórsa members. "We all bring something different to the table. Some may know the families personally. They know that this week they have sufficient dried food, but they're running low on washing powder. That kind of insight is key," he said.
"When we're delivering the parcels I try to let the families know that Fórsa has funded them. It's an opportunity to educate people on the work of unions and the good they do in our communities."
John commended the support received by Crosscare management at Ronanstown Youth Service.
"We're trusted to make decisions and exercise our best judgement, so we can do our level best for the families in our community."
Running on a shoestring, with every cent accounted for, John described their reliance on Crosscare's foodbank.
"Our first port of call is always the foodbank. We need enough food to sustain the family, so we'll stock up on non-perishables. If biscuits or chocolate are available we'll include them too. It's important that there is a little bit of luxury, even if it's something as small as a few packets of biscuits," he said.
The parcels are then topped up with additional supplies, like perishable goods or food vouchers bought with donations. Working in Crosscare's youth services, John explained the importance of helping children.
"There are cases of extreme neglect. Children living in completely dysfunctional households and immeasurable poverty, compounded by drug or alcohol addiction. We know the parcels will provide enough to sustain the children for the week. And it gives us an opportunity to see how the children are coping, and keep an eye on their mental health," he says.
John described the tremendous effect the food assistance has. "We recently visited a woman who had fallen on hard times. She was so overwhelmed by the generosity, she broke down in tears. You can't put into words the effect that had on her. Something as small as a €20 voucher made such a dramatic difference to that woman and her family."
John acknowledged the generosity of the Fórsa branches whose donations have helped many families in need. "People simply couldn't manage without this assistance," he said.
You can get more information Crosscare's work HERE.
If your branch is interested in making a donation to the programme contact Roisin McKane HERE.

If you wish to contact the union, click here.